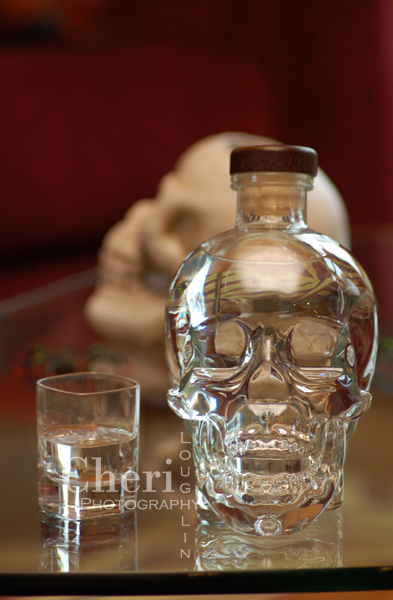 Dan Aykroyd cleverly launched Crystal Head Vodka to the world with a viral marketing campaign late last year that had many skeptics; me included. Links to the original postings on The Intoxicologist Is In site have since been removed, but the bottom line is Crystal Head Vodka does indeed exist. This beautiful piece of glasswork with Aykroyd's legendary vodka finally reaches my bar top just in time for Halloween!
Crystal Head Vodka aroma has a distinct alcohol overlay. There is no denying the fact this is bare bones vodka. Consumed neat the flavor is clean with barely a hint of vanilla, extremely warming with burn in the finish. By and large I see this as vodka meant for mixing. By mixing I mean incorporating the spirit into drink recipes and lively conversation. The most interesting feature about Crystal Head Vodka isn't how this spirit flavors out. Quite honestly the first thought in anyone's mind when they see this particular vodka isn't the clear spirit, but the skeletal head.
Crystal Head, Halloween and the Paranormal
There is an intricately woven story surrounding Crystal Head Vodka with the 13 Crystal Heads leading one into the realm of the paranormal making it perfect for Halloween and ghostly stories. All one has to do is place Crystal Head Vodka out on the bar or kitchen island and guests will begin chattering about what's in it, wanting to give it a try. Make sure you have some equally intriguing cocktails to keep their appetite for the mystical satisfied.
Give 'em the Red Eye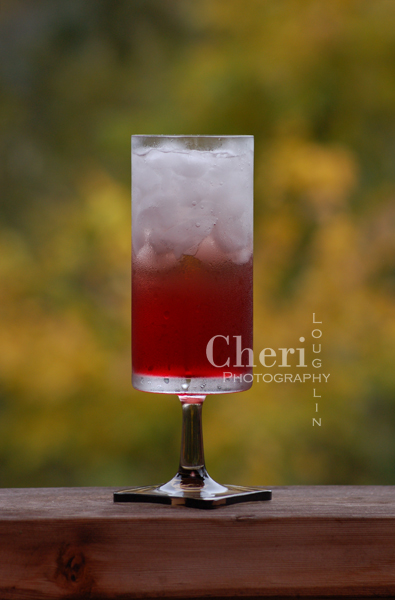 Sometimes cranberry juice has a tendency to bite in the finish. With the addition of peach schnapps the cranberry juice edges become rounded and Red Eye ends up with a juicy splash of flavor. Slightly sweet, but not overly done. Something to love about this particular drink is the extreme definition of red and white color due to the ice float. It creates great visual effect making this a fabulous sipper and excellent party serve cocktail. If you are more of a sipper than gulper and ice tends to water your drink too quickly, strain this into a cocktail glass rather than on the rocks and sip away.
Red Eye – recipe by Cheri Loughlin, The Intoxicologist
1 ounce Crystal Head Vodka
1/2 ounce DeKuyper Peach Schnapps
3 ounces Ocean Spray Cranberry Juice Cocktail
1 ounce Homemade Grenadine
2 ounces Club Soda
Combine vodka, peach schnapps and cranberry juice in a cocktail shaker with ice.  Shake to blend and chill. Strain into a tall glass over fresh ice. Top with club soda.
Skeletal Remains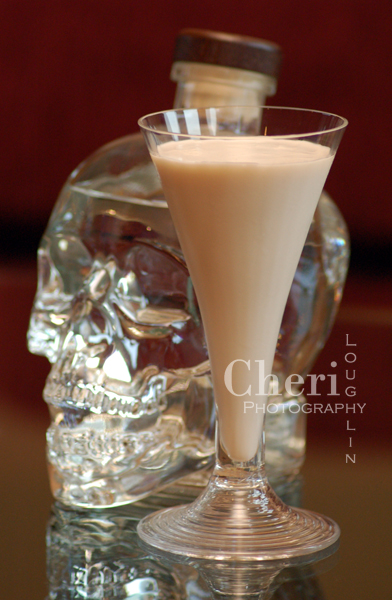 All that remains in Skeletal Remains is someone licking the glass when this cocktail is finished. The flavor is light peanut butter with a hint of chocolate. It is almost like consuming peanut butter fluff without the foam. Vodka allows nothing but pure unadulterated flavor shine through in this light cocktail. Easy on the sweet factor while still letting one know there is a bit of dessert in the cocktail glass.
Skeletal Remains – recipe by Cheri Loughlin, The Intoxicologist
3/4 ounce Crystal Head Vodka
1/2 ounce Castries Peanut Rum Crème
1/2 ounce Godiva White Chocolate Liqueur
1 ounce Heavy Whipping Cream
Combine ingredients in a cocktail shaker with ice. Shake vigorously to blend and chill.  Strain into a decorative cocktail glass.
Just the Bare Bones Ma'am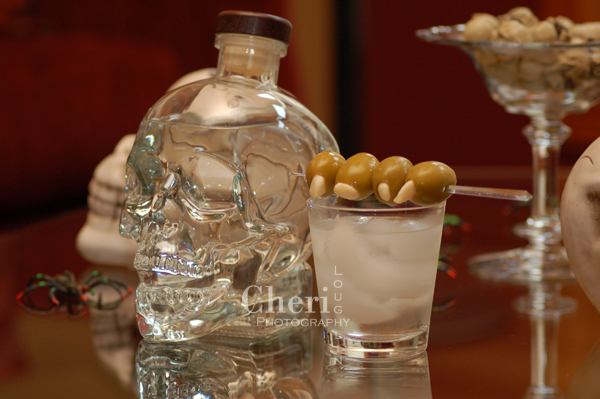 With the first few samples of Crystal Head Vodka I didn't think it was well suited for a straight up martini or consuming 'bare bones.' But then I stirred it with a little ice to take the edge of alcohol off and let it aerate a little. Bare Bones is a tribute to the Halloween party season of course.
Bare Bones – recipe by Cheri Loughlin, The Intoxicologist
2 ounces Crystal Head Vodka
Ice
Garlic Stuffed Green Olives
Place vodka in an old fashioned glass with ice. Place skewered garlic stuffed green olives atop your nothing but bones Crystal Head Vodka to keep the Vampires away. It's a sure bet they'll all want a sip of what you're having.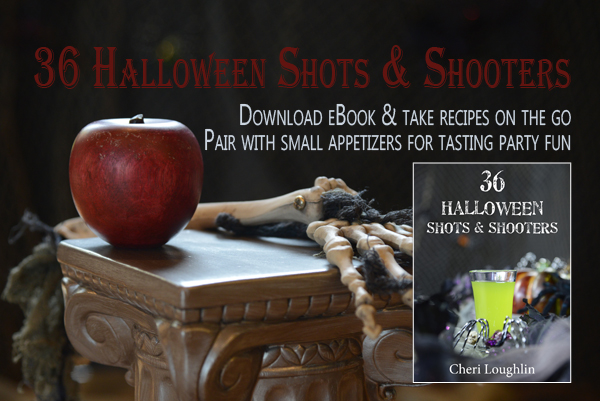 You Can Never Get Enough Crystal Head
One last note on the bottle shape: It is designed perfectly for finger position to allow proper pour. The Crystal Head Vodka bottle might be unique but forethought did go into the design for behind the bar handling with ease.
A few more drink recipes listed below would be a splash hit at your Halloween party where Crystal Head Vodka would not only make a great centerpiece, but also interesting conversation starter and spirited mixer.
Headshrinker
1-1/2 ounce Vodka
1 ounce Blackberry Brandy
1/2 ounce Fresh Lemon Juice
Lemon Twist Garnish
Combine liquid ingredients in cocktail shaker with ice. Shake to blend and chill. Strain into a cocktail glass. Garnish with fresh lemon twist.
Mind Eraser
2 ounces Vodka
2 ounces Kahlua
1-1/2 ounce Club Soda
Build over ice in an old fashioned glass. Add a straw and promptly suck it down. (Please consume responsibly.)
Phantasm Fizz
1-1/2 ounce Vodka
1 ounce Heavy Whipping Cream
1/2 ounce Galliano
Club Soda
Whipped Cream
Combine vodka, heavy whipping cream and Galliano in a cocktail shaker with ice. Shake thoroughly to blend and chill. Strain into a tall glass over fresh ice. Top with club soda. Garnish with a ghoulish dollop of whipped cream.
All content ©2014 Cheri Loughlin, The Intoxicologist. All Rights Reserved. Chat with Cheri @Intoxicologist on Twitter and facebook.com/Intoxicologist or str8upcocktails@gmail.com
Crystal Head Vodka: Spirited Halloween Drink Choice