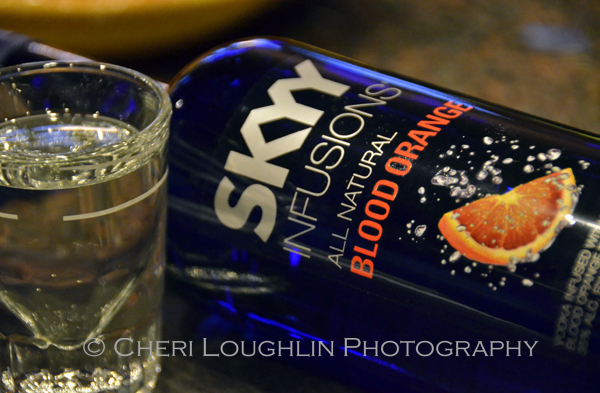 The classic Negroni cocktail recipe is always a personal favorite go-to drink for summer or winter sipping enjoyment. When it was time to review the SKYY Infusions Blood Orange Vodka, a variation of the Negroni instantly came to mind. Blood orange and grapefruit flavors both go rather nicely with the Negroni flavor profile. They seem to thin the drink recipe out a bit for warmer weather sipping. This makes the drink a great refresher. The cocktail recipe variation below just might be the ticket for soaking up a little sunshine.
By the way, March 31 is Oranges and Lemons Day. A Vodka infused with orange or blood orange would be perfect for the day!
Blood Orange Negroni
1 ounce SKYY Infusions Blood Orange Vodka
1/2 ounce Campari
1/2 ounce Sweet Vermouth
2 ounces Club Soda
Orange Slice Garnish
Fill highball glass two thirds full with ice. Add liquids to glass in order given, topping with club soda last. Garnish with orange slice.
If you feel like sipping something a little different (Orange Sorbet, Prosecco, SKYY Blood Orange Vodka and Orange Juice), then check out the Blood Orange Sgroppino drink recipe photographed and described in great visual detail on the Italian La Bella Vita blog. This cocktail looks amazing and sounds delicious!
Orange Breeze
2 ounces SKYY Infusions Blood Orange Vodka
1/2 ounce Pineapple Juice
1/2 ounce Cranberry Juice
1/2 ounce Lemon Juice
Orange Twist or Orange Slice Garnish
Combine liquids in cocktail shaker with ice. Shake to blend and chill. Strain into chilled cocktail glass. Garnish with orange twist or orange slice garnish. (More drink recipes like this one provided by Campari America on flickr in the SKYY Infusions Blood Orange tag.
What is SKYY Infusions Blood Orange Vodka?
Vodka infused with natural blood orange flavors. SKYY Infusions Blood Orange is made with real blood oranges and SKYY Vodka. It is carefully infused with all-natural ingredients with the goal of irresistibly crisp, fresh taste and lusciously sweet blood orange. – Information printed on bottle label
70 Proof / 35% alcohol
Suggested Retail Price:$15 to $19 range depending on area
Availability: Main market area is United States and Canada.
SKYY Infusions Blood Orange Vodka Tasting Notes
Color: Clear
Aroma: Reminds me of opening a fresh bag of candy sweet tarts. Powdery sweet with bit of sugary tartness. Makes my mouth water a little. No burn.
Tasted Neat: Sweetness, though it is minimal. Very little burn. Orange with hint of bitter, like the oily skin of orange. Not lush. Bit fruity like you might expect from cocktail fruit juice, but not as sweet. Definitely reminds me more of candy flavor rather than natural fruit flavor. Slightly artificial tasting as it doesn't seem to roll over the tongue with layered lushness. Seems a bit one dimensional in its streamlined flavor.
Review sample courtesy representatives of Campari America
Twitter, Facebook, StumbleUpon – str8upcocktails @ gmail.com – ©2013 Cheri Loughlin-The Intoxicologist, All Rights Reserved.
2 Blood Orange Vodka Spring Drink Recipes