The Monkey Gland cocktail became a fast favorite this summer in the Pernod Absinthe Tasting Room at Tales of the Cocktail '09 in New Orleans.  Pernod Absinthe could have gone the truly strong route with raucous drink recipes that played up the strong character of the spirit.  Instead the drinks chosen drew in a crowd like me who might otherwise skip the spirit all together due to its overbearing nature.  Absinthe is usually a love it or leave it type spirit.  However, Pernod turned the tables by including cocktails that highlighted the spirit without turning the entire cocktail into a total licorice/anise taste fest.
Monkey Gland is an unfortunate name for such a lovely cocktail deep in luscious flavor, but a classic cocktail none the less in my opinion.  It retains beautiful color due to the orange juice and homemade grenadine inclusion.   By washing the glass with Pernod Absinthe rather than adding dashes into the drink itself, the cocktail maintains faint wisps of Absinthe flavor and aroma that are simply delightful.  Much of taste has to do with aroma.  Breathing in the Pernod Absinthe washed around the glass while sipping the Monkey Gland combines into something rather magnificent.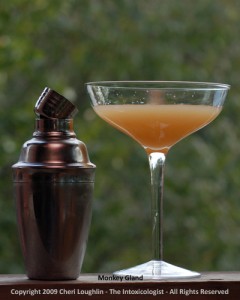 Monkey Gland
2 parts Beefeater Gin
1 part Orange Juice
1 teaspoon Grenadine
2 dashes Pernod Absinthe
Orange Zest Twist Garnish
Place Pernod Absinthe in a cocktail glass with ice.  Set aside.  Combine Beefeater Gin, orange juice and grenadine in a mixing glass with ice.  Shake to chill.  Toss Pernod Absinthe and ice from cocktail glass.  Strain contents of mixing glass into chilled cocktail glass.  Garnish with orange zest twist.
Cheri Loughlin is a leading cocktail and photography resource for beverage companies, event planners, businesses and individuals. High resolution cocktail and beverage stock photography images are available in downloadable digital format in the newly redesigned Stock Photography Gallery at www.cheriloughlin.com.
Twitter, Facebook, StumbleUpon – str8upcocktails @ gmail.com – ©2012 Cheri Loughlin-The Intoxicologist, All Rights Reserved. All opinions, reviews and spirits' coverage are the personal opinion and decision of Cheri Loughlin.
Absinthe Classic Cocktail Recipe: Monkey Gland