Coffee inspired drinks bring out the best in after dinner cocktail experiences. Whether the choice is creamy cocktails or silky smooth brandy sipped from snifters the ultimate goal becomes relaxation and enjoyment. It's the company one keeps that is important. Often this includes a combination of friends and spirit. Kahlua Coffee Cream Liqueur creates the ideal muse for spirited coffee cocktails. It adds ribbon like silk affect to the flavor profile with its light sweetness and feather soft cream.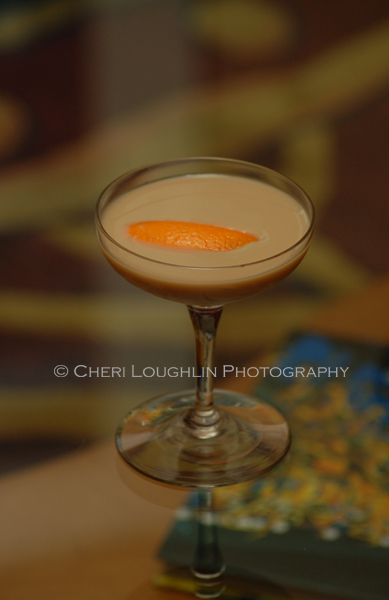 Brandied Bonbon Café – created by Cheri Loughlin
1 ounce Brandy
1 ounce Cointreau
1 ounce Kahlua Coffee Cream
Orange Zest Garnish
Combine liquid ingredients in a cocktail shaker with ice.  Shake to blend and chill.  Strain into chilled martini glass.  Garnish with fresh orange zest twist. 
Brandied Bonbon Café tastes exactly like the chocolate covered candied orange gel candies that make the rounds at holiday time. This cocktail turned out delicious! The Kahlua Coffee Cream base is not as thick as some cream liqueur spirits, so the result doesn't feel sticky or leave unwanted sugary, milky residue lingering in the aftertaste. This is a highly recommended dessert cocktail for the holidays or anytime one wants an added touch of elegance to the after dinner hour.
Twitter, Facebook, StumbleUpon – str8upcocktails @ gmail.com – ©2013 Cheri Loughlin-The Intoxicologist, All Rights Reserved.
Brandied Bonbon Café Cocktail