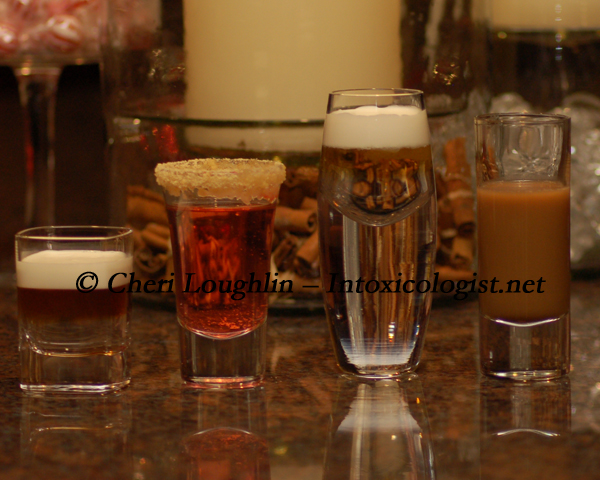 Several options arise for those in the mood for dessert during the holidays yet either don't want to take the time for baking or prefer tempting libations within itty bitty glasses.  You may have seen the mini desserts contained within shot style glasses popping up at restaurants in the last few years.  Why bother with little custards, puddings and cakes inspired by shots and shooters?  Go for the original creations that inspired the dessert revolution.
What are fall, Thanksgiving and family for the holidays without the tasty goodness of apple pie?  Sure, it's usually piping hot out of the oven with the warming aroma to lure one into the kitchen, but this one takes a little less time to prepare with less mess and still packs on a great crust around the edges.  *wink wink* Yeah, it was worth a shot.  I can't see mom in the kitchen swigging this back either, but one just never knows…
4 Holiday Dessert Shots
Hot Apple Pie Shot – recipe by Cheri Loughlin, The Intoxicologist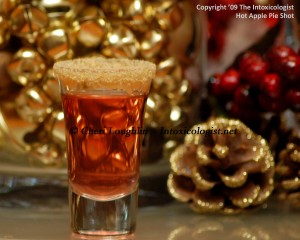 1 ounce Apple Rum
1/2 ounce Hot Damn Cinnamon Schnapps
Graham Cracker Crust Garnish
Crush graham crackers to fine grain.  Rim shot glass in cinnamon schnapps.  Dip in graham cracker crumbs.  Set aside.  Combine liquid ingredients in a cocktail shaker with ice.  Shake to blend and chill.  Strain into shot glass.
You've heard the warning before – 'don't try this at home.'  I'm telling you 'try this at home' … the layering part that is.  I don't care which shot you try to layer.  Pick one.  Pick a favorite from a recipe book or another website.  Just do it!  Heaviest spirits go on the bottom, lightest spirits toward the top.  I tried this at home and I was stoked that it actually worked!  The trick is slowly slipping the liqueurs over the back of a spoon into the shot glass rather than just pouring them into the glass atop each other.  Give it a whirl.  It's pretty cool!
Chocolate Amaretto Soufflé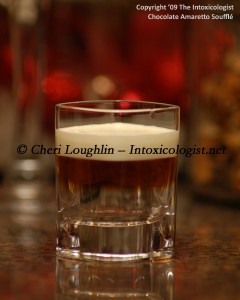 1/2 ounce Crème de Cacao
1/2 ounce Amaretto Liqueur
1/2 ounce Heavy Cream
Layer ingredients in a shot glass.
Layer Cake proves not every layered shot will turn out as planned.  Difficult to notice from the photo, but this layered shot was not as easy to build as the previous layered shot.  Lesson learned; they won't all turn out perfect.  But if measured correctly, the flavor will remain the same throughout.  The difference is most likely shot glass or the weight difference between
Amaretto and Apricot Brandy since those were the only two variables between Layer Cake and Chocolate Amaretto Soufflé.  Amazing how different one ingredient makes in taste, texture and look.
Layer Cake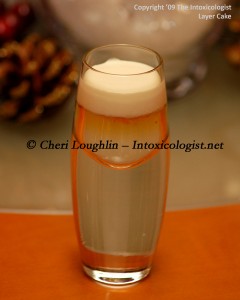 1/2 ounce Crème de Cacao
1/2 ounce Apricot Brandy
1/2 ounce Heavy Cream
Layer chilled ingredients in a shot glass.  Ingredients layer easier when applied over the back of a bar spoon or ordinary table spoon.
As is important with any shot I can think of offhand, one of the most important features is make sure the ingredients are cold.  Many shots play on the ability to mess a person up quickly as may be exemplified by listening to two women approach the bar Friday evening and say this to the bartender, "Give us two of your strongest shots."  They didn't ask for a particular flavor, sweet, sour or base spirit.  The intent was to just get hammered or gain a little liquid courage.  Maybe a thump on the head would suffice since they obviously didn't care what they might gulp down in the glass.  There are some tasty shots out there.  Find a few you like.  Remember how to make them and order those when you're feeling like a celebration shot to start or end the evening.  Knowledge is empowerment even in the realm of shots.  They might be going down fast, but make sure they have a little flavor.
Mississippi Mud Pie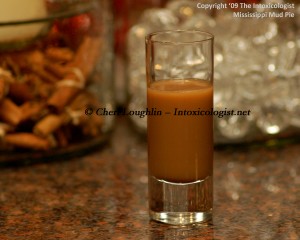 3/4 ounce Coffee Liqueur
1/2 ounce Southern Comfort
1/4 ounce Heavy Cream
Combine liquid ingredients in a cocktail shaker with ice.  Shake to blend and chill.  Strain into a shot glass.
All content ©2009 Cheri Loughlin, The Intoxicologist. All Rights Reserved. Chat with Cheri @Intoxicologist on Twitter and facebook.com/Intoxicologist or str8upcocktails@gmail.com
Dessert Inspired Holiday Shot Recipes