Backyard barbeques, making a splash poolside, camp getaways to the lake; each marks the beginning of summer.  Good friends, tasty treats and cool refreshment go a long way to make summer satisfaction memorable.  Tequila Cazadores knows the best way to summer lovin' and persuasive relaxation is tantalizing cocktails beyond the typical margarita.  Provide market fresh, contemporary Cazadores cocktails at your next summer soiree for a refreshing getaway that's sure to please.
Tequila Cazadores Modern Muddled Margarita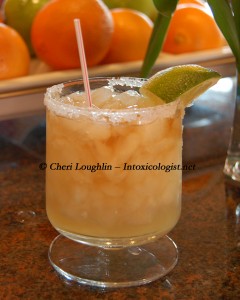 1-1/2 ounce Tequila Cazadores Blanco
1 ounce Cointreau
1 ounce Agave Nectar
2 Orange Wedges
2 Lemon Wedges
2 Lime Quarters
Muddle fresh fruit in bottom of mixing glass.  Add liquid ingredients and ice.  Shake to blend and chill.  Strain into chilled martini glass.  Garnish with orange wedge if desired.  Notation:  Make this go long by straining over fresh ice into martini glass or rocks glass.
Tequila Cazadores 'La Perla'
1-1/2 ounce Cazadores Blanco
1/4 ounce Mezcal Blanco
1/2 ounce Agave Nectar
1 ounce Prickly Pear Puree
1 ounce Fresh Lime Juice
3 dashes Tajin Chili Powder
1 sprig Epazote Herb
Rim rocks glass with Tajin chili powder.  Set aside.  Place all liquid ingredients and chili powder in mixing glass with ice.  Shake to blend and chill.  Strain into rimmed rocks glass over fresh ice.  Garnish with Epazote herb leaf.
Cheri Loughlin is a leading cocktail and photography resource for beverage companies, event planners, businesses and individuals. High resolution cocktail and beverage stock photography images are available in downloadable digital format in the newly redesigned Stock Photography Gallery at www.cheriloughlin.com.
Twitter, Facebook, StumbleUpon – str8upcocktails @ gmail.com – ©2012 Cheri Loughlin-The Intoxicologist, All Rights Reserved. All opinions, reviews and spirits' coverage are the personal opinion and decision of Cheri Loughlin.
Muddling the Summer Lovin' Margarita