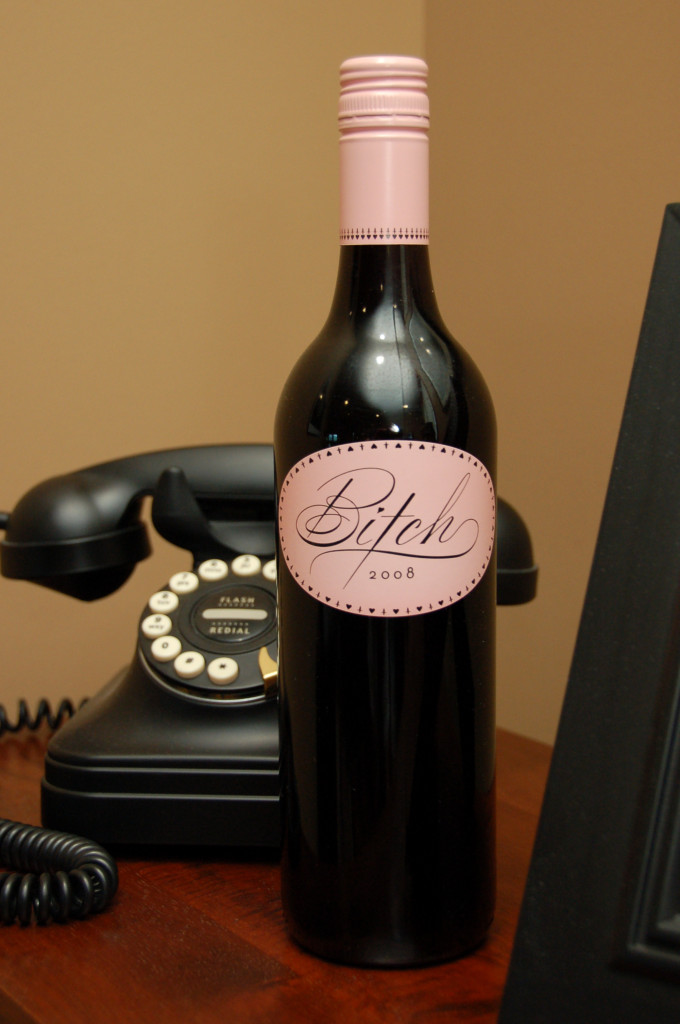 In the Twitter-verse there is this walk through the hallway, a sort of friendly hello to those who take the time to write about subjects they are most passionate about.  For many this high five wave is one way of letting others know who is out there in the field doing a terrific job so others can also take the time to read their wonderful script by following their Twitter feed to capture links.  #FollowFriday is most likely the most commonly known follow, but everyday has a little something for everyone.  It adds a little spark of fun to the play day – I mean work day.  Today is #WineWednesday.
One wine in particular captured my twisted sense of humor recently.  Bitch wine is my #WineWednesday pick.  I gift wine often and know there just has to be someone out there perfectly suited for this label – in the kindest, gentlest way possible of course.  Set aside tasting notes for a moment.  Who is Bitch Grenache designed for?   You know the score.  If you are female you have been accused at least once in your life.  More if you're honest.  You've probably been in the name calling boat a time or two as well.
A friend recently Liked a page no Facebook with the title, I'm Not a Bitch, I just Have a Low Bullshit Tolerance, struck me as hilarious and so appropriately named.  We all have those little pet peeves that niggle until the sanity cord gets pulled just a little too tight and the bitch factor rears its ugly little head for a moment.  We all have at least a friend or two who is just a little too clingy with desire for our life to revolve around their life.  When the take outweighs the give by a ton or two the bitch ball drops and said friend gets their feelings crushed like trodden wine grapes.  Even the most friendly, receptive person finds themselves on the bitch list from time to time.  Speaking up about repeatedly rude wait staff, calling out an outlandish product claim made by a salesperson trying to make a sale or demanding equitable pay for continued successful work are all reasonable, yet place women particularly in the hot pink bitch category.  And yes, I find myself on that short list often.  Be honest.  Don't you?
Perhaps rather than gifting the Bitch, I'll call a few friends from the short list and invite them to share it.  Cheers!
Bitch Grenache from R Winery in Barossa Valley Southern Australia
100% Grenache
15.5 Alc/Vol
Vintage 2008
Official Tasting Comments
South Australia was hit by a heat wave mid vintage in 2008 which sent alarm bells ringing through the South Australian wine industry. The heat wave proved very advantageous to R Wines, providing wines which are big, rich, ripe and jammy—iconic attributes of R Wines.
Official Tasting Notes
Brick red, with pink hues. Sweet, boiled lollies, confectionary nose, some cinnamon spice. This follows onto the palate, with some juby, creamy, confectionary flavors. Good weight and length on finish.
All content ©2014 Cheri Loughlin, The Intoxicologist. All Rights Reserved. Chat with Cheri @Intoxicologist on Twitter and facebook.com/Intoxicologist or str8upcocktails@gmail.com
Wine Wednesday: The Bitch Short List