World Cup celebrations roll around once every four years.  Become part of the festivities by throwing your own World Cup Soccer watch party.  Whether you are a soccer fan, inspired by the enthusiasm of worldwide sports competition and participation or just in on the action for fun and frivolity there is surely a team to cheer for while lifting a glass in spirited toast.
The sprinkling of recipes below represents a few of the nations competing along with a spirit choice from the respective countries.  Enjoy the zeal of competition while cheering for the home team!
England's spirit of choice: Gin
Though the classic Collins contains no muddled fruit with garnish of cherry and orange slice only, this version adds a striking color and summertime fruit flavor for something unique.
Black Cherry Collins – created by Cheri Loughlin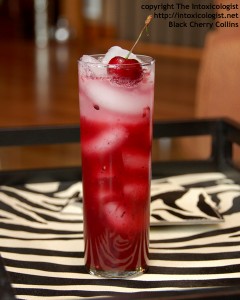 Adapted from classic Collins recipe
6 Fresh Cherries (save 1 for garnish)
3 Fresh Blackberries
1-1/2 ounce Gin
3/4 ounce Simple Syrup
3/4 ounce Fresh Lemon Juice
Club Soda
Gently muddle cherries and blackberries in bottom of mixing glass.  Add gin, simple syrup and lemon juice with ice.  Shake to blend and chill. Strain into tall glass.  Top with Club Soda.  Garnish with remaining fresh cherry.
Mexico's spirit of choice: Tequila
Why be lured into the same Margarita fare where tequila is concerned?  It's summer after all.  Venture from the usual.  Kick off the sandals with the Summer Vacation.
Summer Vacation – Good Spirits, A.J. Rathbun
1 ounce Silver Tequila
1 ounce Yellow Chartreuse
4 ounces Fresh Orange Juice
Orange Slice Garnish
Fill highball glass with ice.  Build drink over ice in order given.  Garnish with orange slice.
U.S.A. spirit of choice: Bourbon
Nothing says good ole U.S.A. like bourbon.  Sure, neat or on the rocks is definitely the way to go most days of the week, but live a little.  Show the world bourbon is as sophisticated as the next spirit.  Dress it with sweet seduction.
Urban Bourbon – Good Spirits, A.J. Rathbun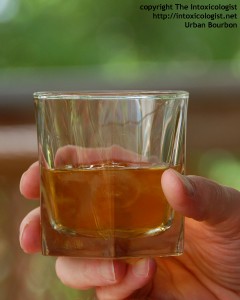 2 ounces Bourbon
1/2 ounce Tuaca
Lemon Twist Garnish
Build over ice in a rocks glass.  Garnish with fresh lemon twist.  Stir gently.  Sip gracefully.  Notation: Original recipe in Good Spirits book calls for 3/4 ounce Tuaca.
France's spirit of choice: Absinthe
When the score is tied at zero and you're looking for your team to score, this is definitely the go to cocktail.  If nothing else, loaded with Absinthe it is definitely THE cocktail on the list to score points in the room for most defined flavor.
Zero Cocktail – Good Spirits, A.J. Rathbun
1-1/2 once Absinthe
1-1/4 ounce Fresh Orange Juice
1/4 ounce Grenadine
Fresh Cherry Garnish
Combine liquid ingredients in a cocktail shaker with ice.  Strain into cocktail glass.  Garnish with fresh cherry.
Brazil's spirit of choice: Cachaca
This Batida will allow you and your guests the freedom of choice.  Blender, ice and an assortment of fruit (fresh or frozen) will win you the trophy for best World Cup hostess.
Frozen Fruit Batidas – adapted by Cheri Loughlin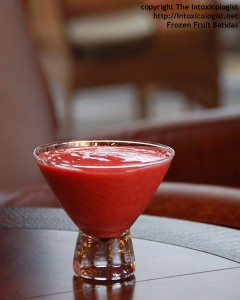 2 ounces Cachaca
4 ounces Sweetened Condensed milk
1 Cup Sliced Fruit (Fresh or Frozen)
Fruit Slice Garnish
Place all ingredients except garnish in blender with approximately 1-1/2 cups crushed ice.  Blend until smooth.  Add more ice if needed.  Garnish with slice of fruit.
Spain spirit of choice: Sherry
This is an updated cocktail from Difford's Guide #7 adapted from The Savoy Cocktail Book – Harry Craddock, 1930
Coronation Cocktail No. 1
1-1/2 ounce Fino Sherry
1-1/2 ounce Dry Vermouth
1/4 ounce Maraschino Liqueur
2 dashes Orange Bitters
Orange Zest Twist
Combine all liquid ingredients in a cocktail shaker with ice.  Shake to blend and chill.  Strain into cocktail glass.  Garnish with fresh orange zest twist.
Italy's spirit of choice: Galliano
Every country needs winning spirit, so plan ahead with a champagne cocktail for that celebratory win.  Cheers!
Vittoria – created by Cheri Loughlin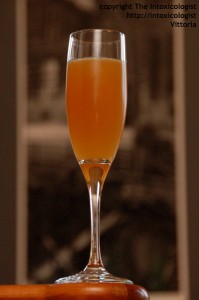 1 ounce Galliano
1/2 ounce Raspberry Liqueur
1/2 ounce Orange Juice
1/2 ounce Lemon Juice
1-1/2 ounce Brut Champagne
Combine Galliano, raspberry liqueur and juices in cocktail shaker with ice.  Shake to chill.  Strain into champagne flute.  Top with Brut Champagne.
New Zealand spirit of choice: 42Below Vodka
From the 42Below Vodka Cocktail World Cup to the 2010 Soccer World Cup – a cocktail from the 21st Century Punch Challenge from Team New Zealand using 42Below Passion Fruit Vodka.
Team New Zealand
Calem Chadwick – Matterhorn, Wellington
Josh Crawford – Hooch, Wellington
James Goggin – Racket, Wellington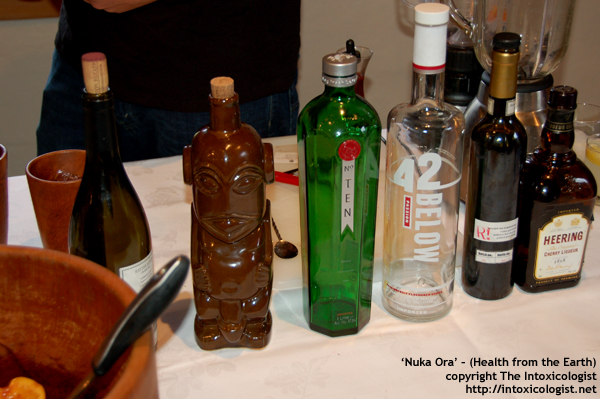 'Nuka Ora' – (Health from the Earth)
23 ounces 42BELOW Passionfruit Vodka
12 ounces Tanqueray TEN Gin
15-1/2 ounces Nectarine Juice
15-1/2 ounces Homemade Tart Grenadine Syrup
7-2/3 ounces Shiraz
4 ounces Cherry Brandy
90 Teaspoons Apricot Infused Manuka Honey
80 Drops Bitters
Blend quickly.  Serve in large wooden mugs.
Cheers! Good luck to all teams participating. – The Intoxicologist
Cheri Loughlin is a leading cocktail and photography resource for beverage companies, event planners, businesses and individuals. High resolution cocktail and beverage stock photography images are available in downloadable digital format in the newly redesigned Stock Photography Gallery at www.cheriloughlin.com.
Twitter, Facebook, StumbleUpon – str8upcocktails @ gmail.com – ©2012 Cheri Loughlin-The Intoxicologist, All Rights Reserved. All opinions, reviews and spirits' coverage are the personal opinion and decision of Cheri Loughlin.
World Cup Soccer Party Celebration Cocktails