Though travelers the world over complain about the state of airline accommodations, the cost of checking baggage, layovers, delays and the continual increase in fees incurred for the privilege of flying the vast open skies, at least once a year we pay homage to two men who made aviation possible.  National Aviation Day honors the endeavors of Orville and Wilbur Wright.  August 19 was chosen as Wright's Brother's Day since it is the birthday of Orville Wright and was created by presidential proclamation by U.S. President Franklin D. Roosevelt in 1939.
The Aviation and Aviation Cocktail No. 1 recipes are widely known favorites in classic cocktail books.  Brands, bartenders and mixologists continue adapting the Aviation recipe to suit particular tastes, specific gins and varying liqueurs.  You could say the Aviation recipe veers off course now and again taking differing flight patterns for renewed twist on an old classic favorite.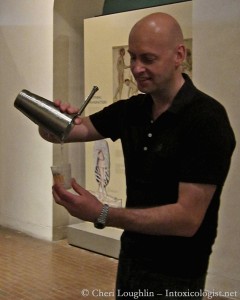 Aviation No. 1 – Simon Difford, The Cabinet Room, London
Adapted from Hugo R. Esslin's 1916 book Recipes for Mixed Drinks
1-3/4 ounces Tanqueray London Dry Gin
1/2 ounce Luxardo Maraschino Liqueur
1/4 ounce Benoit Serres Crème de Violette
1/2 ounce Freshly Squeezed Lemon Juice
1/2 ounce Chilled Mineral Water
Lemon Zest Twist Garnish (Sugar Rim Optional)
Place all liquid ingredients in Boston shaker with ice.  Shake to blend and chill. Fine strain into chilled cocktail glass.  Garnish with lemon zest twist.
Find The Intoxicologist on Twitter, Facebook, StumbleUpon or Email: str8upcocktails@gmail.com
www.discus.org – Distilled Spirits Council of the United States
Copyright 2010 Cheri Loughlin – The Intoxicologist – All Rights Reserved
All opinions, reviews and spirits' coverage contained within are the personal opinion and decision of Cheri Loughlin, The Intoxicologist.
Aviation Cocktail Recipe Takes Adapted Flight Pattern