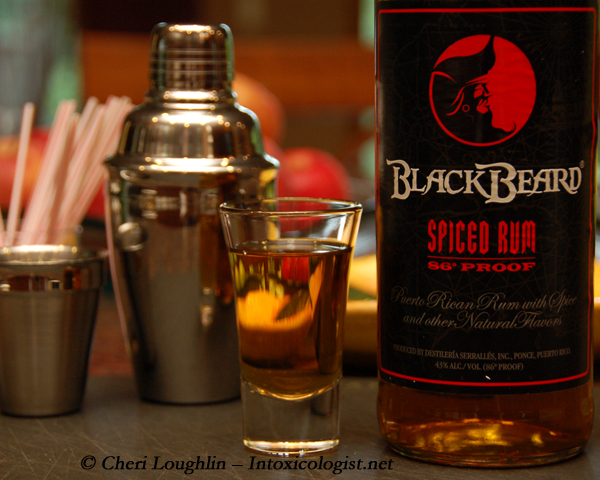 Black Beard Spiced Rum has been named after the notorious English pirate who commanded the ship, Queen Anne's Revenge.  His moniker and reputation stems from the formidable look of thick black beard, rough appearance and rumors that he often lit fuses under his hat to scare his enemies.  Though he is sometimes portrayed as cruel and murderous, Black Beard exploited his terrifying image and clever skills as leader to obtain the desired effect in those he robbed and held captive.  Black Beard has become the inspiration for pirate themed books, movies, parties and now rum.
Black Beard Spiced Rum
86 Proof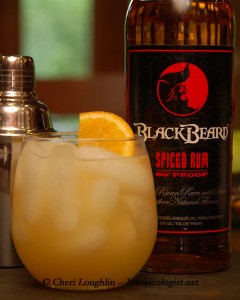 Aroma: Faint, barely there molasses or dark honey…maybe.  Mostly vanilla with bits of floral buried deep.  Slight tinge of fishy scent coming across.  How's that for a little note of Black Beard's fresh from the sea treasure?!
Taste: Large amount of burn at the forefront but more taste than the aroma lets on.  Caramel notes.  Spice comes greatly from the heat burn.  Some cinnamon fire possibly.  Difficult to decipher.  Vanilla roundness with touch of cinnamon roll softness straight through the middle.  Floral just barely there, but comes across rather unassuming at the back of the tongue.
Black Beard Spiced Rum's labeling comes across dark and menacing with a wee bit of snaggle tooth sword sinister style to it.  Don't let a bottle's appearance fool you.  The spirit begins with liquid burn but softens in the middle toward smooth sailing.  Spice factor won't cause one to buckle at the knees, but does manage to pack a modest smack when shaken in mixed company.  This isn't typical sipping style rum, but manages to shake the ordinary light rum experience up a bit.
Black Beard Spiced Rum sample for review courtesy Catch 21 Consulting.  All opinions, reviews and spirits' coverage contained within are the personal opinion and decision of Cheri Loughlin, The Intoxicologist.
Copyright 2010 Cheri Loughlin – The Intoxicologist – All Rights Reserved
Black Beard Spiced Rum: Smooth Sailing for Cocktails