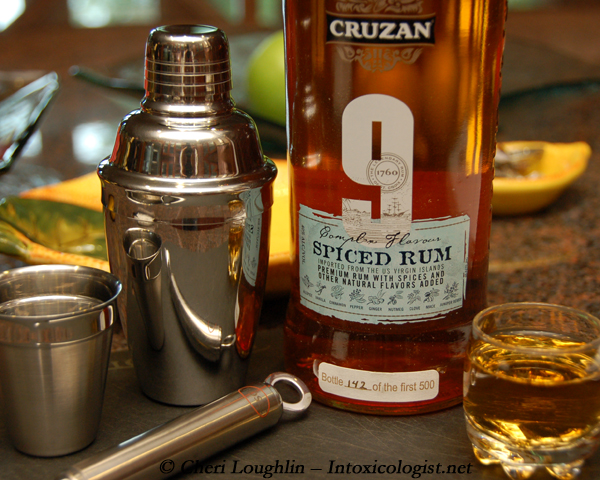 One of the newest offerings to the Beam Global Spirits & Wine, Inc. portfolio includes Cruzan 9 Spiced Rum.  This spiced rum pays tribute to the nine districts of the island for which it is named in St. Croix and the nine flavor profiles within the spirit; vanilla, nutmeg, cinnamon, ginger, cloves, mace, allspice, pepper and juniper berry.
Cruzan 9 Spiced Rum Tasting
Aroma: Molasses, light spice and clove
Taste: Vanilla, bit of anise, quite a bit of burn, thin rather than overly thick with sweetness, hit of pepper spice with clove sprinkled throughout.
Definitely lends itself well to warming blends, but not necessarily hot drinks specific.  Ginger could definitely work with this using honey or molasses to sweeten the deal rather than the usual simple syrup or sugar cube suspects.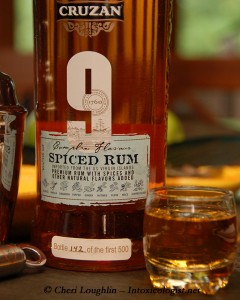 An interesting factor of spiced rum is the usual inclusion of cola topper as primary mixer.  It's a handy add in for the spirit and lends itself well for blending since the caramel tones of cola work well with cinnamon spices and vanilla, but there is much more room for play within the spiced rum category.  Look toward traditional recipes which include light and dark rums or even those that might be light rum specific.  Jazz up the flavor of a drink by embellishing it with flavorful spiced rums.  Don't be mislead into thinking that the spiced rum category should be filed within the fall to winter season.  This spirit creates divinely pleasant tropical treats for year round consumption.
9 Nova – adapted from classic Bossa Nova cocktail
1 part Cruzan Light Rum
1 part Cruzan 9 Spiced Rum
1/2 part DeKuyper Apricot Brandy
1 part fresh Lemon Sour*
3 parts Pineapple Juice
Pineapple Wedge Garnish
Ground Nutmeg
Combine all liquid ingredients in cocktail shaker with ice. Shake to blend. Strain into hurricane glass over fresh ice.  Garnish with pineapple wedge. Dust with fresh ground nutmeg. *Fresh Lemon Sour: 2 parts Lemon Juice, 1 part Simple Syrup
Additional information of interest from the Cruzan 9 Spiced Rum media release: "Cruzan touts one of the cleanest rums in the industry with its low levels of fusel oils, a by-product of the distillation process which, if not removed, can taint the smell and taste of the spirit. Its quality is also linked to the aging process, with most Cruzan rum varieties being aged a minimum of 14 months and up to 12 years."  Cruzan 9 is 80-proof, a blend of 9 spices and retails for approximately $16 for a 750 ml bottle.
Cruzan 9 Spiced Rum sample for review courtesy SHIFT Communications.  All opinions, reviews and spirits' coverage contained within are the personal opinion and decision of Cheri Loughlin, The Intoxicologist.
Find The Intoxicologist on Twitter, Facebook, StumbleUpon or Email: str8upcocktails@gmail.com
www.discus.org – Distilled Spirits Council of the United States
Copyright 2010 Cheri Loughlin – The Intoxicologist – All Rights Reserved
All opinions, reviews and spirits' coverage contained within are the personal opinion and decision of Cheri Loughlin, The Intoxicologist.
Cruzan 9 Spiced Rum: Jazzes the Drink