One of the major college football match-ups this week is an instate rivalry game between the Michigan State Spartans and Michigan Wolverines.  The Spartans will literally go head to head in battle with the well recognized winged helmets worn by the Wolverines.  These helmets are more than visual eye candy.  In 1938, Fritz Crisler redesigned the Wolverine helmet for better visibility on the field for his passers and receivers.  Though this seemingly small change improved season stats overall, it is most interesting to note that U-M debuted the winged helmets at the October 1, 1938, game against Michigan State and won with a score of 14-0.
Battle of the Great Lakes Rivalry: Football & Tailgating Drinks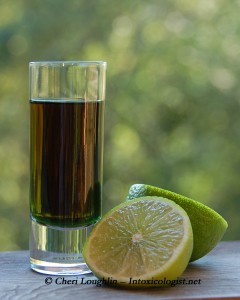 Spartan Warrior – adapted by Cheri Loughlin from the Jagerita
1/2 ounce Jagermeister
1/2 ounce Tequila
1/4 ounce Orange Curacao*
1/4 ounce Blue Curacao*
Splash Lime Juice
Combine liquids in cocktail shaker with ice. Shake to chill. Strain into shot glass. *Notation: The importance of combining the colors of Orange and Blue Curacao is to make this Spartan shot green.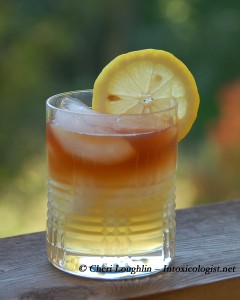 Wingman – adapted by Cheri Loughlin from the Toddy Martini
1-1/2 ounce Blended Scotch
1 ounce Barenjager Honey Liqueur
3/4 ounce Lemon Juice
2 ounces Blackberry Sage Tea or Tea Flavor of Choice
Lemon Wheel Garnish
Place ice in highball glass. Add scotch, Barenjager and lemon juice. Stir. Top with flavored tea. Garnish with lemon wheel.  Notation: The Toddy Martini can be found in Difford's Encyclopedia of Cocktails.
All content ©2010 Cheri Loughlin, The Intoxicologist. All Rights Reserved. Chat with Cheri @Intoxicologist on Twitter and facebook.com/Intoxicologist or str8upcocktails@gmail.com
Battle of the Great Lakes Football & Tailgating Recipes