Try to stop the flow of liquor to throngs of people and what happens?  Someone somewhere finds a source and supplies the demand.  Canadian Club Whisky may have been the unofficial sponsor of Prohibition in America by default due to proximity to the border, but Canadian Club officially scored a lucrative position with bootleggers, mob bosses and those wanting to smuggle a little spirited action over the border during the roaring 20's.  Canadian Club legally produced liquor during the 20's in Canada.  Underhanded and wily men such as Al Capone operated lucrative smuggling operations using illegally made United States liquor and spirits obtained from over the border.  The new HBO series, Boardwalk Empire, explores the era of Prohibition.  Look closely and you'll see Canadian Club incorporated throughout the show.
Boy's Club Cherry Sour – created by Cheri Loughlin
3/4 parts Fresh Lemon Juice
1/2 part Fresh Orange Juice
1 part Maraschino Cherry Juice
2 dashes Angostura Orange Bitters
Orange Wheel and Maraschino Cherry Garnish
Combine liquids in cocktail shaker with ice.  Shake vigorously until frothy.  Strain into rocks glass over fresh ice.  Garnish with orange wheel and maraschino cherry.  Optional egg white may be added in cocktail shaker with liquids if desired for more froth effect.
Boardwalk Manhattan – adapted by Cheri Loughlin from classic Manhattan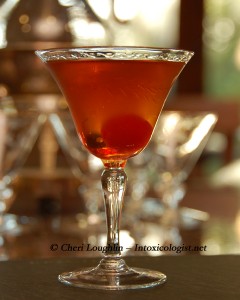 2 parts Canadian Club Whisky
3/4 part Red Vermouth
1/2 part Apricot Brandy
Barspoon Maraschino Cherry Juice
Maraschino Cherry Garnish
Place barspoon maraschino cherry juice and maraschino cherry in well of chilled martini glass.  Set aside.  Place remaining liquid ingredients in mixing glass with ice.  Stir until chilled.  Strain into prepared martini glass.
Tea-Totaller Teaser – created by Cheri Loughlin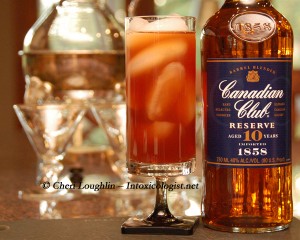 1-1/2 part Canadian Club Whisky
1/2 part Blackberry Brandy
3/4 part Cassis
3/4 part Fresh Lemon Juice
3 parts Blackberry Sage Tea or Plain Tea
Lemon Wedge – optional
Build ingredients in tall glass over fresh ice leaving tea as final topper.  Garnish with lemon wheel if desired.
Every formal affair needs an appropriate drink to dress the occasion in style.  The classic Old Fashioned needn't be served in a martini glass to demand respect.  This particular drink demands attention with its sophistication and flair, much like gentlemen dressed to the nth degree with top hats and tuxes with tails.  Feel free to serve this drink for any circumstance (formal or casual) since it is a continual favorite of whiskey lovers everywhere.
The Top Hat – adapted by Cheri Loughlin from the classic Old Fashioned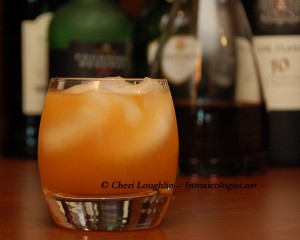 2 Maraschino Cherries
1/2 thick sliced Fresh Orange
4 dashes Angostura Bitters
4 dashes Orange Bitters
2 parts Canadian Club Whisky
Place fruits and bitters in cocktail shaker with ice.  Muddle.  Add Canadian Club Whisky and ice.  Shake vigorously to blend.  Strain into rocks glass over fresh ice to remove unnecessary pulp.
Find Canadian Club Whisky on Facebook and @cc_whisky on Twitter.
Canadian Club Whisky provided for the purpose of cocktail sampling and creation courtesy SHIFT Communications. 
Cheri Loughlin is a leading cocktail and photography resource for beverage companies, event planners, businesses and individuals. High resolution cocktail and beverage stock photography images are available in downloadable digital format in the newly redesigned Stock Photography Gallery at www.cheriloughlin.com.
Twitter, Facebook, StumbleUpon – str8upcocktails @ gmail.com – ©2012 Cheri Loughlin-The Intoxicologist, All Rights Reserved. All opinions, reviews and spirits' coverage are the personal opinion and decision of Cheri Loughlin.
Explore Prohibition Cocktails with Canadian Club & Boardwalk Empire