There is no rest for the weary on Thanksgiving morning. Cooks across the country will rise early and be thankful for the eye opening warmth of caffeine in their cups as baking and basting begin for Turkey Day. Find a few coffee, cider and tea recipes to warm your holiday spirit throughout the early morning hours or save these temptingly delicious treats for after dinner dessert by the fire.
Castries Coffee
2 ounces Castries Peanut Rum Creme
4 ounces Fresh Brewed Coffee
Nutmeg and/or Chocolate Shavings Garnish
Combine ingredients in a pre-heated mug, sprinkle with nutmeg or garnish with chocolate biscotti.
Official Site Tasting Notes:  Warm, robust coffee flavor with a creamy peanut finish.  Enjoy anytime, anywhere.
Mexican Coffee
1 ounce Agavero
Cup of fresh brewed coffee
Dollop of fresh cream
Place Agavero in heat resistant mug. Add fresh brewed coffee. Garnish with fresh cream.
Café Pacifico
1-1/2 ounce Partida Blanco Tequila
1/2 ounce Coffee Liqueur
4 ounces Freshly Brewed Hot Coffee
3 Bar Spoons Cinnamon & Sugar Mix
Heavy Cream
Prepare small warm wine glass.  Add Tequila and Coffee.  Mix in the cinnamon sugar.  Float heavy cream on top of the coffee.  Garnish with a sprinkle of cinnamon sugar mix on top and a cinnamon stick.  Note:  The cinnamon sugar mix is 4 parts granulated white sugar to 1 part ground cinnamon.  Mix them together in a bowl.
Kentucky Coffee
1 part Maker's Mark Bourbon
1 part Starbucks Cream Liqueur
1/4 part Frangelico
Fresh Brewed Coffee
Whipped Cream Garnish
Place spirits in large heat proof mug. Top with fresh brewed coffee. Top with dollop of whipped cream if desired.
Enjoy this classic winter warmer at just 96 calories by following the recipe below.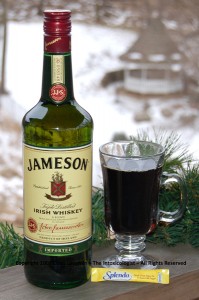 Irish Coffee
1-1/2 ounce Jameson Irish Whiskey
Fresh Brewed Black Coffee
Splenda (to sweeten if you feel you need it)
Stir ingredients in a preheated mug and enjoy! Notation: Irish Coffee is a weekend staple in my home.  After the first pot of coffee is gone, the second pot is for sipping with Jameson Irish Whiskey; no sugar needed.
Hard Rocker Cider – makes 6 servings
1 cup Cabo Wabo Reposado Tequila
4 cups Apple Cider
1 cup Cranberry Juice Cocktail
1/4 cup Triple Sec
1 teaspoon Nutmeg
Cinnamon Sticks, for garnish
Heat cider, stirring continually. Add cranberry juice cocktail and nutmeg. If using a crock pot, simmer on low just until hot for 2 hours. Do not boil. When ready to serve, turn on high for 10 minutes and stir in tequila and liqueur. Serve in heat proof mugs. Garnish with a cinnamon stick. For quick serve, this may be prepared in the microwave.
King's Cider
1-1/2 ounce Crown Royal
2 ounce Heated Cider
1/4 ounce Honey
1/2 ounce Fresh Lemon Juice
Cinnamon Sprinkle Garnish
Place all liquid ingredients in heat proof mug. Sprinkle with cinnamon. Stir with cinnamon stick. Serve.
Cozy PAMA Cider
2 ounces PAMA
3 ounces Hot Mulled Apple Cider
Cinnamon
Super Fine Sugar
Orange Spiral
Heat white wine glass with hot water. Empty. Rim with Cinnamon and Super Fine Sugar.  Add PAMA and Hot Mulled Apple Cider. Garnish with Orange Spiral.
Heated Affair
2 ounces Partida Anejo Tequila
6 ounces Hot Spiced Apple Cider
Heavy Cream
In a small warm wine glass add Tequila and hot apple cider.  Float heavy cream.  Garnish:  Grate fresh Nutmeg over cream.
Apple Cider Preparation:In a pot add Organic Apple Juice.  Add winter spices like cloves, cinnamon stick, all spice and orange peel.  Start off by adding a few cloves, one cinnamon stick, etc… so as to find the right spiced apple cider flavor.  You can always add more spice later.  Bring everything to a low heat for about 15 minutes.  Taste for flavor.  When the desired flavor is reached then take off stove.  Strain out all the spices and orange peel.  Serve warm and enjoy!
Basil Hayden Spice
1-1/2 ounce Basil Hayden's Bourbon
1-1/2 ounce Apple Juice
1-1/2 ounce Cranberry Juice
Steaming Hot Water
Pour all ingredients in a pre-heated* glass coffee mug. Garnish with a cinnamon stick.
*To pre-heat a glass or mug, simply fill with hot water and empty just prior to filling with ingredients.
Passion Tea
1-1/2 ounce Leblon Cachaça
1/2 ounce Cointreau
1/2 ounce Monin Red Passion Fruit Syrup
5 ounces Hot Black Tea
Brew the black tea. Pour Leblon into heat proof cup followed by Cointreau and Monin Red Passion Fruit Syrup. Top with hot tea. Stir thoroughly.
The recipe below serves chilled, but opens the door to the holiday season ahead. Cheers!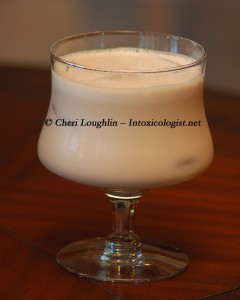 Maker's Mark's Holiday Eggnog
1 liter Maker's Mark
1 quart milk
1 quart heavy cream
2 dozen eggs
1 1/2 cups sugar
Nutmeg for garnish
Separate eggs and beat yolks until creamy. Whip sugar into yolks. Beat whites until they stand in peaks, adding 1/2 cup additional sugar, if desired. Beat yolks and Maker's Mark together, add whites. Beat cream. Add cream and milk to mixture. Add nutmeg to taste and garnish each cup with nutmeg. Makes 2 1/2 gallons.
Cheri Loughlin is a leading cocktail and photography resource for beverage companies, event planners, businesses and individuals. High resolution cocktail and beverage stock photography images are available in downloadable digital format in the newly redesigned Stock Photography Gallery at www.cheriloughlin.com.
Twitter, Facebook, StumbleUpon – str8upcocktails @ gmail.com – ©2012 Cheri Loughlin-The Intoxicologist, All Rights Reserved. All opinions, reviews and spirits' coverage are the personal opinion and decision of Cheri Loughlin.
Eye Opening Hot Holiday Coffees, Ciders & Tea Recipes