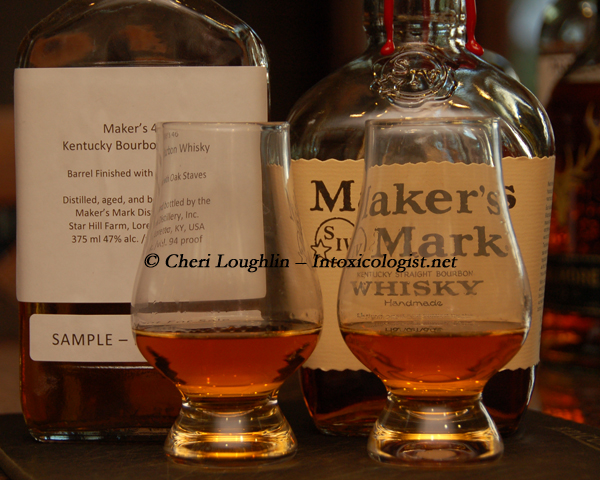 It looks like every bourbon distiller dips their staves into the experimental barrel behind warehouse doors. It just takes longer for their trial and error research to reach maturity.  The Maker's Mark Distillery is no different.  Maker's 46 uses fully matured Maker's Mark as a starting point. Specially seared staves are used in an additional aging process to optimize flavor and enhance the tasting experience.
Maker's 46 Kentucky Straight Bourbon Whisky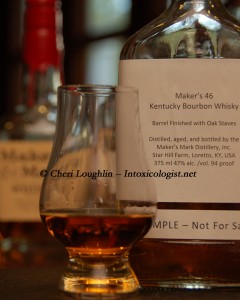 94 proof – Barrel Finished with Oak Staves
Color nearly identical to Maker's Mark only slightly deeper.
Aroma: Orange, Clove, Nut, Oak
Taste: Thinner than expected, lots of orange, vanilla, cinnamon, cherry in the finish. Pecan in the nose. Chocolate but not sickly sweet. Lushness is farther removed with a bit more burn. More drying. More orange.
Maker's Mark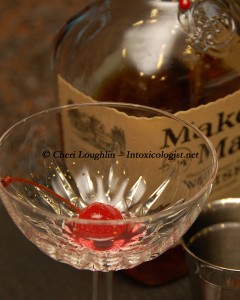 90 proof
Aroma: Orange, Clove
Taste: Drying cinnamon, high orange, red lushness in here that hits in the first sip like kissing full ripe lips or biting into a juicy piece of fruit bursting with flavor. The lushness stays to the center of the tongue almost begging for a splash of red vermouth to come out as a play companion for cocktails. Yet it's wonderful as is. Chocolate and coffee. Baker's chocolate with faintest hint of sweet.
Personally my preference leans toward Maker's Mark rather than Maker's 46. Sometimes original hits the spot right on the (Maker's) Mark.
Maker's Mark Manhattan – Cheri Loughlin version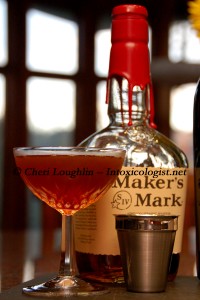 2 parts Maker's Mark
1/2 part Carpano Antica Formula
2 dashes Angostura Bitters
1 teaspoon Maraschino Cherry Juice
Maraschino Cherry Garnish
Place cherry and cherry juice in well of chilled cocktail glass. Set aside. Place remaining liquids in mixing glass with ice. Shake or stir according to preference to chill thoroughly. Strain into prepared cocktail glass.
Maker's 46 retails for approximately $35.
Maker's 46 sample for review courtesy representatives of Maker's Mark.
Cheri Loughlin is a leading cocktail and photography resource for beverage companies, event planners, businesses and individuals. High resolution cocktail and beverage stock photography images are available in downloadable digital format in the newly redesigned Stock Photography Gallery at www.cheriloughlin.com.
Twitter, Facebook, StumbleUpon – str8upcocktails @ gmail.com – ©2012 Cheri Loughlin-The Intoxicologist, All Rights Reserved. All opinions, reviews and spirits' coverage are the personal opinion and decision of Cheri Loughlin.
The Experimental Factor: Maker's 46 & Maker's Mark Bourbon