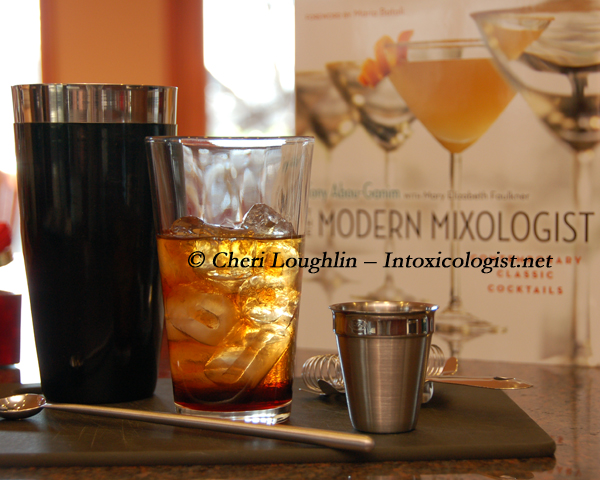 One of the must have cocktail books of the season for gift giving or referencing for your own celebrations and happy hour occasions has to be The Modern Mixologist Contemporary Classic Cocktails by Tony Abou-Ganim.  Tony is The Modern Mixologist, but the book titled by the same name demonstrates exactly why the name fits his style and the way the modern consumer mixes and drinks. The book fills the mind with wonderful photographic illustrations, stories of the how and why many of the cocktails were created and why particular brands and ingredients are specified.  This is accomplished without complicating the process for beginner to advanced cocktail enthusiasts.
Just For Mary – created by Tony Abou-Ganim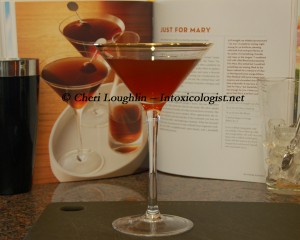 2 ounces (ri)1 Straight Rye Whiskey
1/2 ounce Cherry Heering
1/2 ounce Lillet Blond
2 dashes Regan's Orange Bitters No. 6
Brandied Cherry Garnish
Place liquid ingredients in mixing glass with ice. Stir until thoroughly chilled. Strain into chilled martini glass. Finish with essence of burnt orange twist over cocktail and discard the twist. Garnish with brandied cherry. Notation: Wonderfully flavored cocktail. Resembles a Manhattan with phenomenal twist. Light, lilting, rewarding.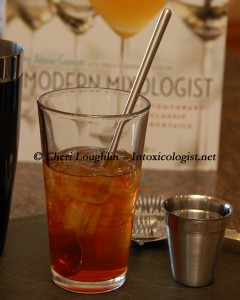 Fun fact from the book one will learn while reading through is Tony adheres to the rule of thumb of 'stir 20 times to the right, stir 20 times to the left' when chilling spirits only cocktails. Glean more basic cocktail information, quotes and trivia while sipping your way through wonderful cocktail recipes. Recipes range from easy to advanced skill level with excellent directions so all can become skilled at assembling the drink desired from the book.
Cheri Loughlin is a leading cocktail and photography resource for beverage companies, event planners, businesses and individuals. High resolution cocktail and beverage stock photography images are available in downloadable digital format in the newly redesigned Stock Photography Gallery at www.cheriloughlin.com.
Twitter, Facebook, StumbleUpon – str8upcocktails @ gmail.com – ©2012 Cheri Loughlin-The Intoxicologist, All Rights Reserved. All opinions, reviews and spirits' coverage are the personal opinion and decision of Cheri Loughlin.
The Modern Mixologist Isn't Just For Mary – It's a Must Have for Every Cocktail Enthusiast