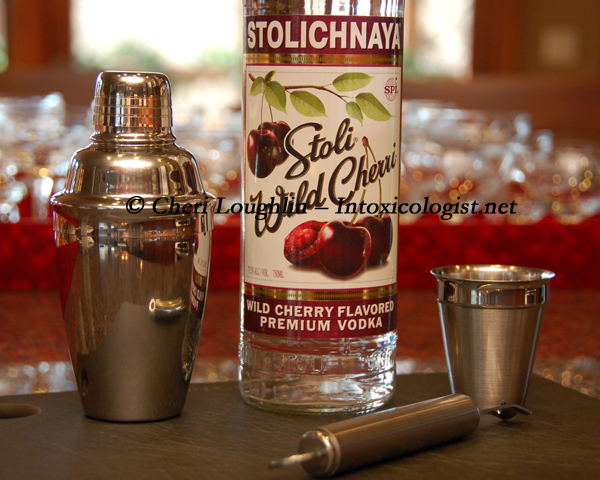 Stoli Vodka's newest release comes in the form of Wild Cherri flavor. First thought that crossed my mind upon the reveal of this new spirit; It's pretty cool to pop open a bottle for review that so closely spells out my name on the label. Just dropping one letter from the Cherri and I could have fudged to all my friends at Christmas that this bottle was a personalized gift from Stoli to me to them. Alas…
Aroma: No burn, light sweetness, tart cherry. Plump cherry feel in the nose. Makes the mouth water a bit in anticipation. Hint of familiar Stoli Vodka aroma in the faintest follow through – buttery roundness. B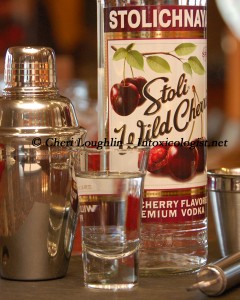 y the way, if you haven't tried Stoli as a solid vodka for your liquor cabinet for mixing cocktails or drinking in a straight up martini, it's high time you did. Value priced, quality spirit with long standing reputation. Try it.
Taste: All cherry no doubt. Not quite biting into fresh cherry, but rather something edgier. Hint of cough syrup flavor reflection, but not saccharine style or powdery burn like some flavored vodkas manage in their infusion approach. Cough syrup likeness is more of an association of familiarity rather than spot on resemblance of the actual taste. The flavor is well executed. Does not leave poor or sticky aftertaste. Instead the flavor leaves the palate subtly, priming the taste buds for another sip.
Wild Cherri Stoli Cocktail and Shot Recipes
Stoli Wild Cherry Cosmo – recipe courtesy Stoli, photo Cheri Loughlin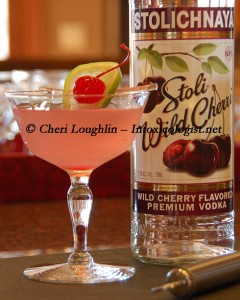 1-1/2 ounce Stoli Wild Cherri
3/4 ounce Triple Sec
1/2 ounce Fresh Lime Juice
1/2 ounce Cranberry Juice
Lime Wheel & Skewered Maraschino Cherry Garnish
Combine liquids in cocktail shaker with ice. Shake to blend and chill thoroughly. Strain into chilled cocktail glass. Garnish with skewered cherry and lime. Notation: Nice inoffensive drink. Plays lightly on the tongue. Easy to mix. Not too sweet.
Flavored vodkas do have their place in the market. They are easy mixers and even easier to create mini drinks otherwise known as shots or shot-tails. These mini mixers are the corner bar Friday and Saturday night staples and Girls Night Out go to shots.
Cherri Haze – recipe by Cheri Loughlin, The Intoxicologist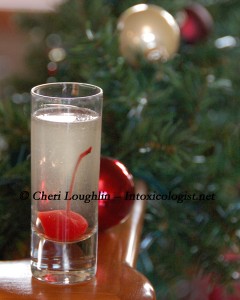 3/4 ounce Stoli Wild Cherri Vodka
1/2 ounce Frangelico
Maraschino Cherry Garnish
Combine liquids in cocktail shaker with ice. Shake to blend and chill. Strain into shot glass. Drop maraschino cherry in center. Shoot or sip being mindful of the cherry soaking at the bottom of the drink.
Stoli Wild Cherri Vodka sample for review courtesy representatives of William Grant & Sons, Ltd.  All opinions, reviews and spirits' coverage contained within are the personal opinion and decision of Cheri Loughlin, The Intoxicologist. Find Stoli on Facebook and Twitter for promotional events, contests and cocktails.
All content ©2010 Cheri Loughlin, The Intoxicologist. All Rights Reserved. Chat with Cheri @Intoxicologist on Twitter and facebook.com/Intoxicologist or str8upcocktails@gmail.com
Stoli: You Had Me at Cherri