Once a year grocery store shelves become cluttered with rows and rows of eggnog cartons.  This holiday drink is as customary as turkey dinner at Thanksgiving time and sugar cookies by the fireplace for Santa at Christmas.  Try as we might to remember everything during holiday shopping trips, sometimes the blaringly obvious items such as eggnog are the ones that go forgotten in the grocery cart.
Raven Nog – created by Cheri Loughlin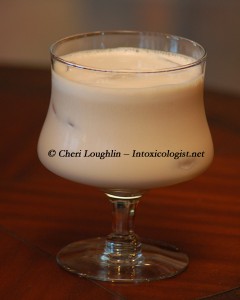 1-1/2 part Conjure Cognac
1 part Gosling's Black Seal Rum
1 part Sandeman Founder's Reserve Porto
2 parts Half & Half
1/2 part Simple Syrup
1/4 cup Original Egg Beaters (1 large egg-beaten)
Place liquids in cocktail shaker with ice. Shake thoroughly to blend and chill. Fine strain into two rocks glasses over fresh ice. Serves 2
Though specific brands are called in this recipe, feel free to substitute with your cognac, rum and port of choice using what is available in your own liquor cabinet. Egg Beaters have been called due to some consumer's aversion to raw egg. Find more cocktails for the holidays by following the link.
High resolution digital photo downloads are available for brand, cocktail menu creation use and individual use at www.cheriloughlin.com within the Beverages category.
Find The Intoxicologist on Twitter, Facebook, StumbleUpon or Email: str8upcocktails@gmail.com. Copyright 2010 Cheri Loughlin – The Intoxicologist – All Rights Reserved. All opinions, reviews and spirits' coverage contained within are the personal opinion and decision of Cheri Loughlin, The Intoxicologist.