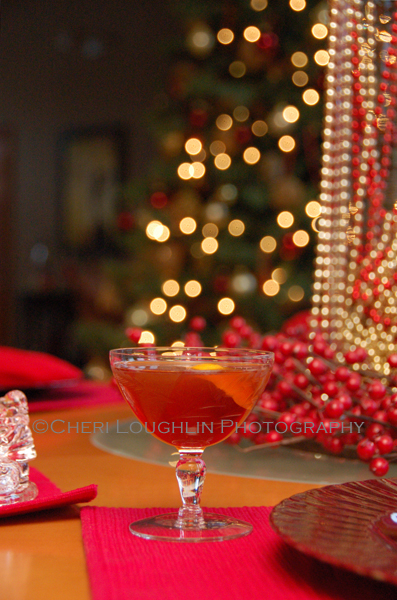 Finding a cocktail recipe worthy of corrupting a fine tippling of scotch definitely merits a few words of praise. Though there are a few reliable favorites such as the Blood & Sand, Bobby Burns and Rob Roy, it is always nice to find a "new" oldie but goodie to serve during the holidays.
Arnaud's Special Cocktail
2 ounces Scotch
1 ounce Dubonnet Rouge
3 dashes Orange Bitters
Orange Twist Garnish
Place liquid ingredients in cocktail shaker with ice. Shake or stir according to preference. Strain into chilled martini glass. Garnish with fresh orange twist.
Unlike some scotch cocktails that cover the essence of the spirit altogether, Arnaud's Special Cocktail retains the beautiful notes of scotch while dabbling with Dubonnet Rouge's lush flavor.  Stir or shake this one just enough to chill it thoroughly so the drink does not become too watery.
Enjoy reading about this New Orleans cocktail's history in the book, Vintage Spirits & Forgotten Cocktailsby Ted Haigh.

Twitter, Facebook, StumbleUpon – str8upcocktails @ gmail.com – ©2012 Cheri Loughlin-The Intoxicologist, All Rights Reserved. All opinions, reviews and spirits' coverage are the personal opinion and decision of Cheri Loughlin.
Tippling Scotch: Arnaud's Special Cocktail