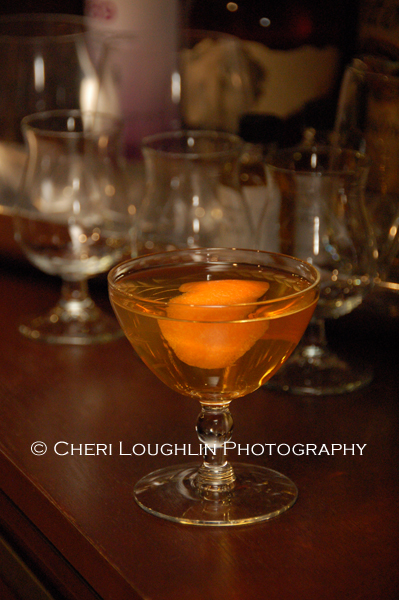 Temptation is that dreadful juxtaposition of honor colliding with willful desire.  It is deep, penetrating, indulgence coinciding with the mind numbing knowledge that enticement is mere steps from utter catastrophe and sheer delight.  However, share tempting pleasures with those you treasure and the outcome just might offer welcome appeal. Contemplate Temptation carefully.
Temptation
2 ounces Rye Whiskey
1/2 ounce Dubonnet Blanc
1/2 ounce Absinthe
1/2 ounce Triple Sec
Orange Twist Garnish
Place liquids in mixing glass with ice. Stir until thoroughly chilled. Strain into chilled cocktail glass or champagne saucer. Garnish with orange twist. Notation: If you find absinthe a tad overwhelming use these instructions instead – Place absinthe in cocktail glass with ice. Swirl to coat glass. Toss absinthe coated ice. Set aside. Place remaining ingredients in mixing glass with ice. Stir to chill. Strain into prepared absinthe washed cocktail glass. Garnish with fresh orange twist.
Subscribe to the monthly Newsletter
All content ©2015 Cheri Loughlin, The Intoxicologist. All Rights Reserved. Chat with Cheri @Intoxicologist on Twitter and facebook.com/Intoxicologist