Sometimes a cocktail does this crazy little dance with the taste buds that tangos between lush and 'what the hell just happened.' I give you the Napoleon Martini. There is rich red vermouth sweetness at the forefront immediately followed by a splash of minty Fernet Branca. This perplexing twist of flavor irony captures the entire meaning of Happy Hour within seconds. Not many cocktails capture this little magical twist of disentanglement from the predictable.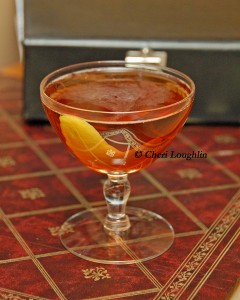 Napoleon Martini
2 ounces Gin
1/4 ounce Cointreau
1/2 ounce Dubonnet Rouge
1/4 ounce Fernet Branca
Lemon Twist Garnish
Combine liquids in cocktail shaker with ice. Shake to blend and chill. Strain into chilled cocktail glass. Garnish with fresh lemon twist.
Notation: If the Fernet Branca is a little too much for you taste, go just a little less than 1/4 ounce. 1/8 ounce is just not enough to notice. For something a little richer in flavor, exchange Dubonnet Rouge for Carpano Antica Formula.
More Gin and Classic Cocktails can be found by following the link.
Find The Intoxicologist on Twitter, Facebook, StumbleUpon or Email: str8upcocktails@gmail.com – Copyright 2011 Cheri Loughlin – The Intoxicologist – All Rights Reserved – All opinions, reviews and spirits' coverage contained within are the personal opinion and decision of Cheri Loughlin, The Intoxicologist
Napoleon Martini Is Happy Hour Dynamite