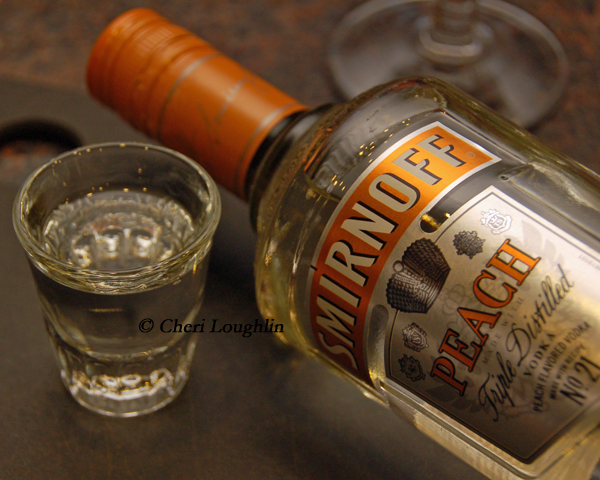 There are spirited flavors on the market for every palate – coconut, passion fruit, dragon berry and plain ole peach. These flavor infusions jazz up cocktails via sparkling waters, juices, syrups, liqueurs and base spirits such as rums and vodkas.  Some liquor brands churn out a rainbow of flavors to please the palate of each individual who might happen to pick up their product.
Smirnoff Peach Vodka Tasting Notes
35% alcohol. 70 proof. Leaves a bit of dried sugar around bottle rim after opening, recapped and left to sit.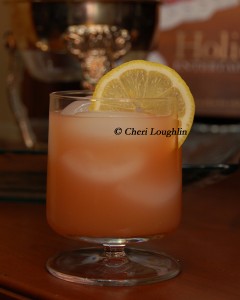 Aroma: Peach, fresh sent of alcohol upon opening bottle, but gone for the most part a minute or two after pouring it in the glass. Faint residual, but not offensive.
Taste: Faint sweetness. Skin of the peach in taste. Not lush peachy, but still nice display of peach. Warmth, heat. Thin vodka. Pleasant enough.
I've always considered Smirnoff Vodka to be a pleasant and affordable mixing spirit. Smirnoff Peach continues along the same lines. It is a little thin for straight up martini style cocktail without additional mixers in my opinion. Most likely mixes fine with tonic, Sprite or tea topper. However when mixed cocktail style the peach flavor became drowned out under multiple mixers.  Smirnoff Peach definitely benefits by enhancing the peach flavor with peach liqueur or schnapps. This sweetens the deal so to speak. Since the boost in peach flavor became necessary when whipping up a drink it made me wonder why not just use plain Smirnoff Vodka and Peach Schnapps to go the distance instead?
Browse more Reviews and Vodka Cocktails by following the links. High resolution digital photo downloads are available for brand, cocktail menu creation use and individual use at www.cheriloughlin.com within the Beverages category.
Smirnoff Peach Vodka sample for review courtesy representatives of Smirnoff Vodka. All opinions, reviews and spirits' coverage contained within are the personal opinion and decision of Cheri Loughlin, The Intoxicologist.
Find The Intoxicologist on Twitter, Facebook, StumbleUpon or Email: str8upcocktails@gmail.com – Copyright 2011 Cheri Loughlin – The Intoxicologist – All Rights Reserved
Flavored Rainbow Is Just Peachy