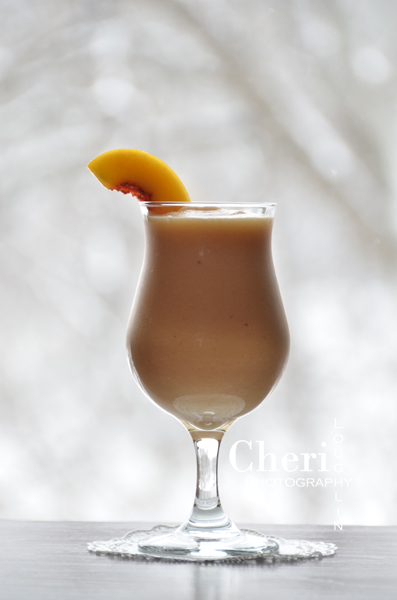 The best Pina Coladas I ever sipped (repeatedly and often) were served on a cruise ship. That was seven glorious days of someone else making drinks while I basked in the sun. The delicious part of the Pina Colada wasn't just in the basic recipe. It was the dark rum floated over the top of the drink that made it taste so good. Yum!
I am still a fan of the classic Pina Colada with rich coconut flavor and ample splash of dark rum over the top. But I also love to play with the recipe by adding fruit flavors. This variation keeps true to the flavors of the classic Pina Colada with added fruity kick. A little less pineapple, added orange juice and frozen peach slices give this drink amazing flavor. It's like slipping into vacation mode the instant the creamy mixture glides over the tongue. Who couldn't use a little instant vacation?!
Blend up some fun! August 16 is National Rum Day.
Peachy Pina Colada Recipe
This recipe does not call for a rum float over the top, but I would definitely recommend one for added punch. Try with and without. See which way floats your boat.
Peachy Pina Colada – recipe by Cheri Loughlin, The Intoxicologist
2 ounces Spiced Rum
1-3/4 ounces Pineapple Juice
1-1/4 ounce Orange Juice
2 ounces Cream of Coconut
1 ounce Unsweetened Almond Milk
8 Frozen Peach Slices
1 cup Crushed Ice
Peach Slice Garnish
Place all ingredients except garnish into a blender. Blend until mixture is completely smooth. Pour into a Poco Grande glass. Garnish with peach slice.
I used Shellback Rum while creating this Pina Colada variation. However, feel free to use your rum of choice to recreate this drink at home. Happy sipping!
All content ©2014 Cheri Loughlin, The Intoxicologist. All Rights Reserved. Chat with Cheri @Intoxicologist on Twitter and facebook.com/Intoxicologist or str8upcocktails@gmail.com