Ok, so you think you've tasted THE Cosmo… maybe you have. It isn't bright pink by the way. It isn't so sugary sweet that you pucker up as you swallow it down. That's something else entirely… The Lady's Cosmo sets the tone for classic with orange bitters that hit the high note of "yea, that's what I'm sayin'". If there isn't an orange sitting around to zest or flame for that matter, no worries. Bitter up and call it good. This one is a go getter all on its own.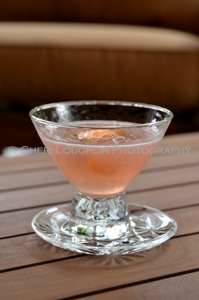 Lady's Cosmo
1-1/2 measure Citrus Vodka
1/2 measure Premium Orange Liqueur
3/4 measure Cranberry Juice
1/2 measure Fresh Lime Juice
3 dashes Orange Bitters
Orange Peel Garnish
Combine liquids in cocktail shaker with ice. Shake to blend and chill. Strain into chilled cocktail glass. Garnish with orange peel.
July 14 is National Grand Marnier Day. Celebrate!
Cheri Loughlin is a leading cocktail and photography resource for beverage companies, event planners, businesses and individuals. High resolution cocktail and beverage stock photography images are available in downloadable digital format in the newly redesigned Stock Photography Gallery at www.cheriloughlin.com.
Twitter, Facebook, StumbleUpon – str8upcocktails @ gmail.com – ©2011 Cheri Loughlin-The Intoxicologist, All Rights Reserved. All opinions, reviews and spirits' coverage are the personal opinion and decision of Cheri Loughlin.
National Grand Marnier Day