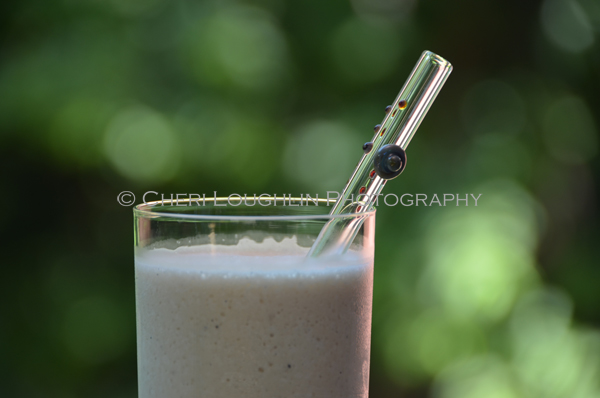 Fabulous kisses begin with subtle sweetness followed by delicious decadence. Blend a little summer fun into the mix and complete indulgence is sure to follow.
Kiss Me Sweetly – created by Cheri Loughlin
3/4 measure Coffee Liqueur
3/4 measure Irish Cream
3/4 measure Tuaca
1-1/2 measure Half & Half
3 scoops Vanilla Ice Cream
12 ounces Crushed Ice
Place all liquids and ice cream in blender. Add ice. Puree until completely smooth. Pour into decorative glass. No garnish needed with beautifully handcrafted Strawesome sipware in the glass.
Subtle coffee hint with lots of sweet vanilla shine through. Tuaca and Irish Cream add the ideal creamy sweetness to this summertime treat. July is National Ice Cream Month with July 23 as National Vanilla Ice Cream Day.
Cheri Loughlin is a leading cocktail and photography resource for beverage companies, event planners, businesses and individuals. High resolution cocktail and beverage stock photography images are available in downloadable digital format in the newly redesigned Stock Photography Gallery at www.cheriloughlin.com.
Twitter, Facebook, StumbleUpon – str8upcocktails @ gmail.com – ©2011 Cheri Loughlin-The Intoxicologist, All Rights Reserved. All opinions, reviews and spirits' coverage are the personal opinion and decision of Cheri Loughlin.
Reuseable Decorative Glass Straw sample provided by Strawesome. Strawesome is also on Twitter and Facebook.