The Caramel Apple Martini was a huge hit at my Halloween party. It is super easy to make ahead in batch form. Just multiply the ingredients by the number of cocktails you will serve. Refrigerate Caramel Apple Martini mixture until the party begins. Serve over ice or shake 2 to 3 ounces in a cocktail shaker with ice and serve in chilled cocktail glasses for guests. I opted for batch serve for guests to serve themselves in small punch glasses over ice. They loved it and I was able to mingle and enjoy the party, too.
However you decide to serve your guests, enjoy a fun filled Halloween and enjoy the Caramel Apple Martinis! Cheers!
Caramel Apple Martini Recipe
Caramel Apple Martini – created by Cheri Loughlin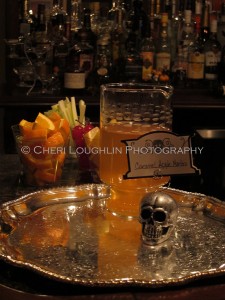 1 ounce Van Gogh Wild Appel Vodka
1 ounce Apple Pie Liqueur
1 ounce Butterscotch Schnapps
2 ounces Apple Juice
3/4 ounce Lime Juice
Maraschino Cherry Garnish – optional
Combine liquids in cocktail shaker with ice. Shake to blend & chill. Strain into chilled cocktail glass or strain into highball glass over fresh ice. Garnish with maraschino cherry.
Yep! That's the real deal photo from my party. Next time I'm serving from a larger pitcher. This one had to be refilled multiple times. Live and learn!

All content ©2011 Cheri Loughlin, The Intoxicologist. All Rights Reserved. Chat with Cheri @Intoxicologist on Twitter and facebook.com/Intoxicologist or str8upcocktails@gmail.com
Happy Halloween: Caramel Apple Martini