The name plays on Bacardi Superior and the Drambuie Pursuit.  There is substantial flavor packed into such a small glass.  Bacardi Superior lends its charm and strength to the heavy handed herbal notes of both Drambuie and B&B Liqueurs.  These rich spirits with equally deep roots in history add depth, flavor and meaning to this small sip cocktail. 
Meant for leisure evenings by the fire or gathering with friends at the familiar haunt.  Superior Pursuit takes one back to the days of two ounce cocktails with million dollar flair. 
Superior Pursuit – created by Cheri Loughlin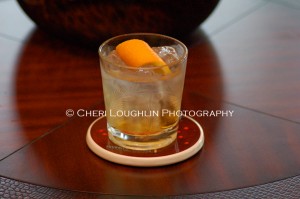 1-1/2 measure Bacardi Superior Rum
1/4 measure Drambuie
1/4 measure B&B Liqueur
Orange Twist Garnish
Build over ice in a rocks glass.  Zest orange twist over the liquid before placing orange twist directly into the cocktail.
Cheri Loughlin is a leading cocktail and photography resource for beverage companies, event planners, businesses and individuals. High resolution cocktail and beverage stock photography images are available in downloadable digital format in the newly redesigned Stock Photography Gallery at www.cheriloughlin.com.
Twitter, Facebook, StumbleUpon – str8upcocktails @ gmail.com – ©2011 Cheri Loughlin-The Intoxicologist, All Rights Reserved. All opinions, reviews and spirits' coverage are the personal opinion and decision of Cheri Loughlin.