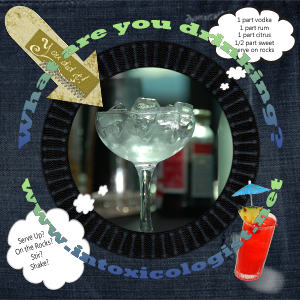 In a recent article I asked readers to participate in cocktail discussion about how cocktails are created, mixed, tweaked and served at home. Let's face it, we all change recipes up a bit whether we're talking about cooking or cocktails. The changes you make for easier mixing and better flavor just might be the tweak or tip someone else has been searching for. Read "What Are You Drinking?" and find out how to share your cocktail tips and ideas here.
One of Todd Swantek's all-time favorite drinks is his version of the Blue Hawaii. Though some prefer rum in the drink, Todd prefers vodka only. The original Blue Hawaii calls for both. One less ingredient makes this drink one step quicker than the original.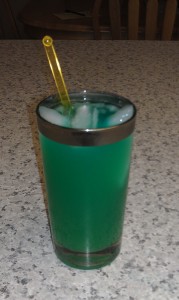 Blue Hawaii – adapted by Todd Swantek
1 shot Vodka
1 shot Blue Curacao
Splash Sour Mix
Pineapple Juice
Place ice in tall glass. Pour ingredients over ice. Top with pineapple juice. Serve. Todd suggests a fun Tiki mug to make the Blue Hawaii more festive. Photo credit: Todd Swantek
"It was an evening favorite on St. Patty's Day due to the green color." ~ Todd Swantek
Why green rather than blue for Blue Hawaii? It all comes down to a matter of ratios within the mix where color is concerned. It also has to do with which sour mix you choose and how much color it has in it or if the sour mix you use is homemade.
Original Blue Hawaii is below for comparison purposes only. Try them both and decide how you would tweak this cocktail to make it your own.
Blue Hawaii
3/4 measure Rum
3/4 measure Vodka
1/2 measure Blue Curacao
3 measures Pineapple Juice
1 measure Sour Mix
Place liquids in cocktail shaker with ice. Shake to blend and chill. Strain into highball glass over fresh ice. Garnish with slice of pineapple. Don't forget the umbrella. Alternative: Place liquids in blender with 12 ounces ice. Blend until completely smooth. Serve in hurricane glass or goblet. Garnish with umbrella.
Twitter, Facebook, StumbleUpon – str8upcocktails @ gmail.com – ©2012 Cheri Loughlin-The Intoxicologist, All Rights Reserved. All opinions, reviews and spirits' coverage are the personal opinion and decision of Cheri Loughlin.