If you love a traditional style Fuzzy Navel, the Alice in Wonderland variation just might be your cup of tea.
Alice in Wonderland – created by Cheri Loughlin
1-1/2 ounce Peach Vodka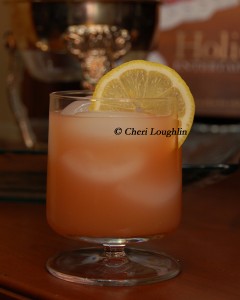 1/2 ounce Peach Schnapps
1-1/2 ounce Cranberry Juice
1-1/2 ounce Orange Juice
3 Dashes Peach Bitters
1 Dash Angostura Bitters
Lemon Slice Garnish
Combine liquids in cocktail shaker with ice. Shake to blend. Strain into highball glass over fresh ice. Garnish with lemon slice.
Twitter, Facebook, StumbleUpon – str8upcocktails @ gmail.com – ©2012 Cheri Loughlin-The Intoxicologist, All Rights Reserved.