Dust off the grill and crank up the sound system because summer is finally here! Yes, sunny days are back, and for hard core music fans, summer is about big rock concerts and tours. With bands on tour this season, arenas will be packed with screaming fans looking to party. To honor your favorite Rock bands Cabo Wabo Tequila created specialty shots inspired by a few favorite bands past and present.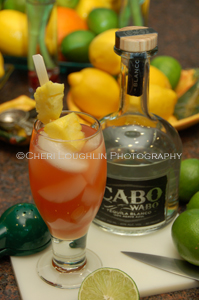 Created by the legendary Red Rocker himself, Sammy Hagar's Cabo Wabo Tequila is hand-crafted from the finest estate grown 100% pure Weber Blue Agave. Winning numerous prestigious tasting awards, it is recognized as one of the finest tequilas in the world. Made with the original Rock & Roll tequila, these Cabo Wabo shots are perfect to get you and your entourage amp'd up at the pre- and post-concert celebrations this year.
A SPACEMAN'S SHOT – inspired by The Killers
1-1/2 ounce Cabo Blanco Tequila
3 dashes Tabasco Sauce
Cover the bottom of a shot glass with Tabasco sauce and fill the rest with Tequila. Finish with a lime wedge.
ALL I WANT IS THIS SHOT – inspired by U2
1 ounce Cabo Blanco Tequila
1/2 ounce Orange Liqueur
1/2 ounce Irish Cream
Carefully layer each ingredient in the following order: orange liqueur, Cabo Tequila, Irish Cream. Slam the shot.
SAMMY SLAMMER – inspired by Chickenfoot
1 ounce Cabo Reposado Tequila
1/2 ounce Almond Liqueur
Splash 151 Proof Rum
Layer Cabo Tequila and almond liqueur in a shot glass. Float 151 proof rum. Light a flame on top and serve. Extinguish flame and shoot.
HELLA GOOD SHOT – inspired by No Doubt
2 ounces Cabo Añejo Tequila
Orange Slice
Powdered Cinnamon
Wet the rim of a chilled shot glass with the orange slice.  Dip into powdered cinnamon. Place tequila in shaker with ice. Shake to chill. Strain into chilled shot glass. Slam the shot and bite into the orange slice to finish.
** These recipes do not imply any type of celebrity endorsement or official involvement with the artists, their music or their tours.  – Text, recipes and photos provided by The Rose Group
Twitter, Facebook, StumbleUpon – str8upcocktails @ gmail.com – ©2012 Cheri Loughlin-The Intoxicologist, All Rights Reserved.
Dog Days of Summer Heat Up With Cabo Wabo Tequila