Campari truly is a classic with no need for review.  While this spirit is widely consumed overseas it is not as common in some areas of the country in the United States.  Campari might be one of those spirits sitting on the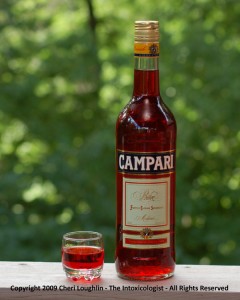 liquor store shelf that intrigues by its color, character, mystique and sexiness, but leaves the average American consumer bewildered as to what exactly to do with it in the field of cocktails.
One seems to have to acquire a taste for this particular aperitif/spirit.  Campari's aroma is dry with barely there sweetness if any at all.  Orange spice definitely becomes prevalent.  The taste is sweet, medium in body and spicy with a dry finish and slight bitterness.  Campari is definitely not a spirit most American's walk up to a bar and think of first off for summery cocktails on the rocks as they might a Mojito, Margarita or Cosmopolitan.  But, Campari's unique characteristics enable classic and new style cocktail creation with outside the box thinking.  The spice tones create an excellent base for fresh orange and citrus cocktails.  Bitter chocolate becomes another possibility for this interesting spirit.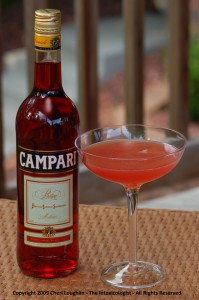 Campari Margarita – ala Campari
1 ounce Campari
1-1/2 ounce Cabo Wabo Reposado Tequila
½ ounce Cointreau
1 ounce Lime Juice
Combine Campari, Cabo Wabo, Cointreau and lime juice in a cocktail shaker with ice.  Shake.  Strain into a margarita or martini glass.
The Campari Margarita smells fabulous!  The reposado shines through distinctly in the aroma.  Flavor balance between all components is well done.  Rather than orange character, there are definite cherry notes in this cocktail.  The finish is particularly drying.
Rather than overlook a spirit on the shelf for lack of knowing just what to do with it, pick it up for purchase.  Taste it as is, try it as recommended by the spirit company and then do a little experimentation on your own.  After all, what is the worst that could happen?  There may be a trickle or two of liquid that may end up down the drain if experimentation goes awry.  In all honesty every trial and error becomes a new level of learning how spirits work together.  Campari is just one spirit that adds new dimension to the cocktail.
Cheri Loughlin is a leading cocktail and photography resource for beverage companies, event planners, businesses and individuals. High resolution cocktail and beverage stock photography images are available in downloadable digital format in the newly redesigned Stock Photography Gallery at www.cheriloughlin.com.
Twitter, Facebook, StumbleUpon – str8upcocktails @ gmail.com – ©2012 Cheri Loughlin-The Intoxicologist, All Rights Reserved. All opinions, reviews and spirits' coverage are the personal opinion and decision of Cheri Loughlin.