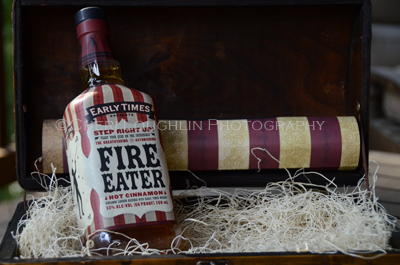 Cinnamon Liqueur blended with Early Times Whisky
66 Proof / 33% alcohol
Suggested Retail Price: $14.99 to $15.99 / 750ml bottle
Availability: Kentucky, Indiana, Washington, Florida, Tennessee, South Carolina, Wisconsin and California as of July 2012. More markets to follow.
Early Times Fire Eater Tasting Notes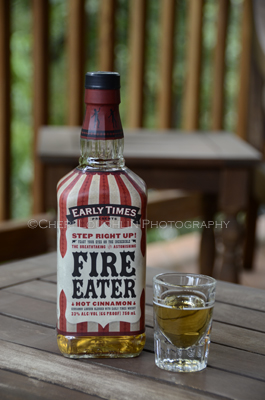 Color: Pale straw color. Slight golden.
Aroma: Strong cinnamon. Fullness. Jolly Rancher cinnamon candy comes to mind. Expectation of medium thickness mouth feel with sweetness.
Tasted Neat: Tastes more like cinnamon disk candies. Warming. Sweet, but sweetness fades to more cinnamon tone. Not fiery hot. Heat minimal. Warming effect is quite pleasant. Perhaps due to whisky inclusion.
I love how the warmth of this liqueur overshadows the sweetness factor. Terrific fun liqueur.
Mouth Feel: Light mouth feel, but far from thin.
Comparable Spirit: Perhaps Fireball Whisky. Could also be substituted for numerous cinnamon liqueurs, but would be lighter on sweetness that usual liqueurs.
Possible Uses, Pairings and / or Cocktails:
One part Early Times Fire Eater, One part Rum Chata (Horchata with Rum). Chill in cocktail shaker. Strain into shot glass. – Tastes like popular cinnamon graham or cinnamon toast cereals.
Could be used in numerous shot drinks that call for cinnamon liqueur.
Stilt Walker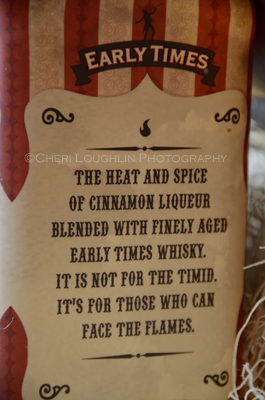 1 ounce Early Times Fire Eater
1/2 ounce Amaretto
1 ounce Orange Juice
4 ounces Sprite
Place all ingredients in cocktail shaker with ice. Roll shaker to blend. Transfer to tall glass to serve.
Review sample provided by representatives of Early Times / Brown-Forman
Twitter, Facebook, StumbleUpon – str8upcocktails @ gmail.com – ©2012 Cheri Loughlin-The Intoxicologist, All Rights Reserved.
Review: Early Times Fire Eater