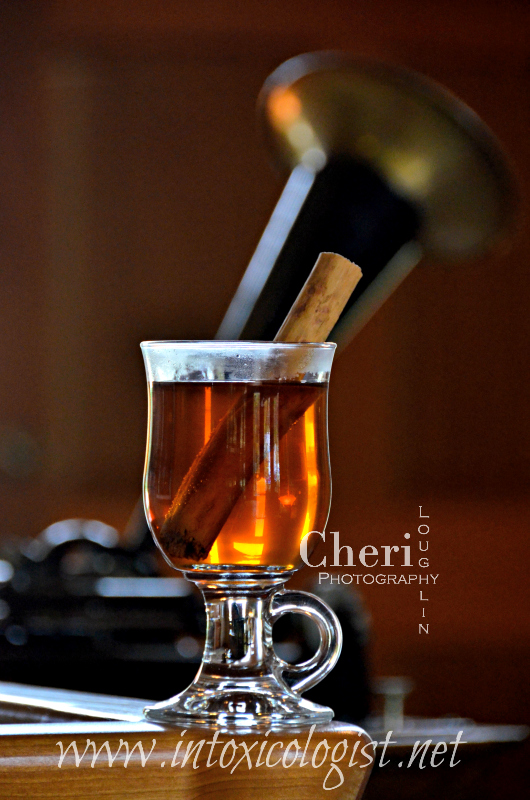 This Riesling Cider recipe should definitely be on your short list of quick drinks. It doesn't require time in a slow-cooker. Your pantry doesn't have to have a plethora of spices. You don't have to make a run to the store for apple cider. There's no need for expensive, fancy elixirs. And this recipe can be enjoyed a single cup at a time.
With Riesling Cider you can enjoy a single cup of spiked hot cider in a matter of minutes with minimal ingredients. As much as I love to make drinks with specialty syrups and dashes of spice and splashes of flavor here and there, sometimes quick and simple are the words of the day. I like to keep instant packages of hot chocolate and cider in the pantry for just this sort of thing.
Taking advantage of packaged convenience items keeps this recipe simple. Riesling wine, a little water, instant apple cider packet and a few minutes in the microwave are all you need to be merrily on your way to hot cider bliss.
Riesling Cider Recipe
Riesling Cider – recipe by Cheri Loughlin
5 ounces Riesling Wine
1 ounce Water
1 package Instant Apple Cider
Cinnamon Stick – optional
Whipped Cream with Allspice Sprinkle optional
Place wine and water in heatproof measuring cup. Heat in microwave for 1 minute. Stir in package of apple cider. Stir with cinnamon stick until apple cider is completely dissolved. Transfer to heatproof mug. Garnish with whipped cream and sprinkle of allspice if desired.
Why Riesling Wine?
Riesling white wine is an ideal choice for this drink because riesling is light and fruity with lots of citrus zing. Riesling is also a lower alcohol content option in comparison to something like bourbon or whiskey. Both of those would be great in a traditional hot hard cider recipe by the way. But who wants to get plowed sipping hot cider? I'm sure someone out there is raising their hand, but it isn't me.
Subscribe to the monthly Newsletter
All content ©2016 Cheri Loughlin, The Intoxicologist. All Rights Reserved. Chat with Cheri @Intoxicologist on Twitter and facebook.com/Intoxicologist
Cheri Loughlin is the Omaha writer and photographer behind www.intoxicologist.net and author of Cocktails with a Tryst: An Affair with Mixology and Seduction. You can email Cheri with comments and questions at str8upcocktails@gmail.com.