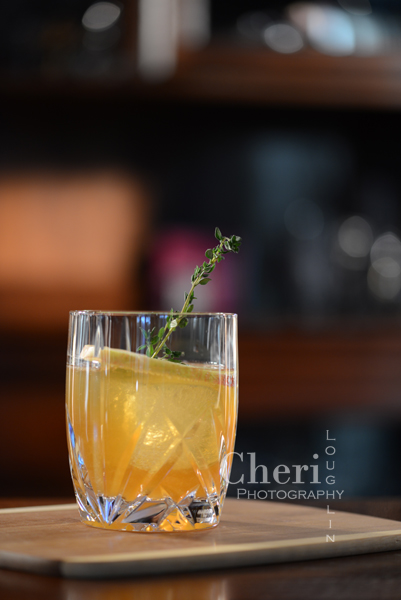 Don't you just love liquor holidays?! September 20 is National Rum Punch Day. That means this year Saturday morning begins with a holiday and continues on with tailgating and football. Does it get any better than that?
The flavors in this Ginger Thyme Cider Rum Punch weave together nicely. It is light cider flavor with tart lemon and hints of warming ginger thyme. Don't let the Ginger Thyme Syrup scare you away from making this drink. The syrup only takes a few minutes to make and will stay fresh in the refrigerator for quite a while. It's so delicious. I have more recipes to share with it, too, so stay tuned.
Easily multiply each ingredient measurement by 10 for pitcher or punch bowl size and take this rum punch to your next tailgate party.
Ginger Thyme Cider Rum Punch Recipe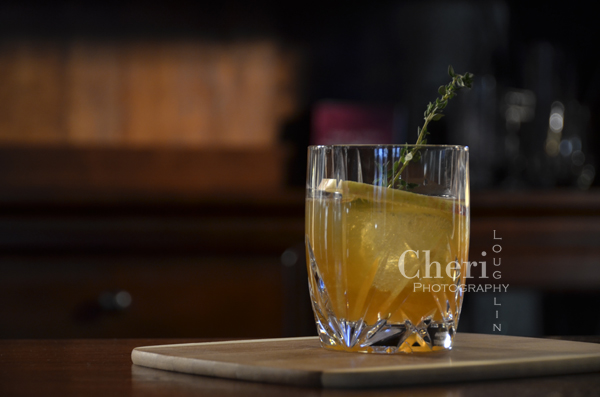 Ginger Thyme Cider Rum Punch – recipe by Cheri Loughlin, The Intoxicologist
2 ounces Shellback Spiced Rum
2 ounces Cider
3/4 ounce Fresh Lemon Juice
1/2 ounce Dark Ginger Thyme Syrup*
2 ounces Club Soda
Apple Slice
Thyme Sprig
Place spiced rum, cider, lemon juice and syrup in a cocktail shaker filled two-thirds with ice. Shake briefly to blend and dissolve syrup. Strain into a double old fashioned glass over a large cube of ice or into a tall glass filled with ice. Top with club soda. Garnish with an apple slice and thyme sprig.
Use 1 ounce of club soda for sharper flavor. Use 2 ounces club soda for softer flavor. Sharper flavor lends itself more toward cooler temperatures with more warming notes. Softer flavor lends itself more toward warmer temperatures with lighter notes, bringing more citrus to the forefront.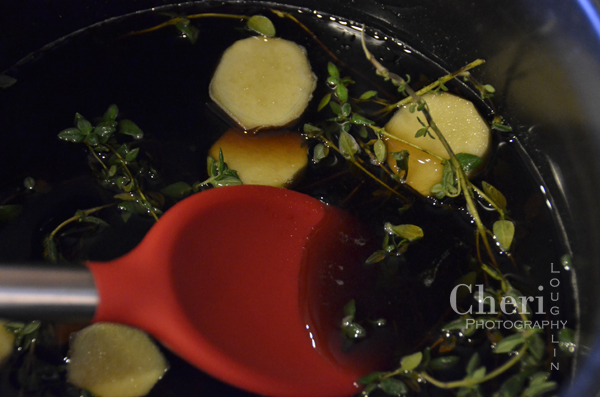 *Dark Ginger Thyme Syrup
2 cups Brown Sugar
10 – 1/4 inch thick by 1 inch round medallions of fresh Ginger
15 to 20 sprigs of fresh Thyme
1 cup Water
1 ounce Vodka – optional (acts as preservative)
Place all ingredients in a saucepan over medium heat. Stir continuously. Bring to a boil. At the boiling point the aroma is that of caramel, vanilla and butterscotch. Boil for exactly 3 minutes and remove from heat. Strain liquid through cheesecloth into a heatproof glass container with lid. Allow to cool. Once liquid is cooled, add 1 ounce vodka as preservative. Seal container. Keep syrup in the refrigerator when not in use. Yields approximately 1-1/2 cups.
This rum punch drink was commissioned by representatives of Shellback Rum as part of the Corporate Mixology program offered by Cheri Loughlin, The Intoxicologist. Find more recipes created by Cheri Loughlin for Shellback Rum on this site and at ShellbackRum.com and by following Shellback Rum on Facebook.
All content ©2014 Cheri Loughlin, The Intoxicologist. All Rights Reserved. Chat with Cheri @Intoxicologist on Twitter and facebook.com/Intoxicologist or str8upcocktails@gmail.com
Ginger Thyme Cider Rum Punch