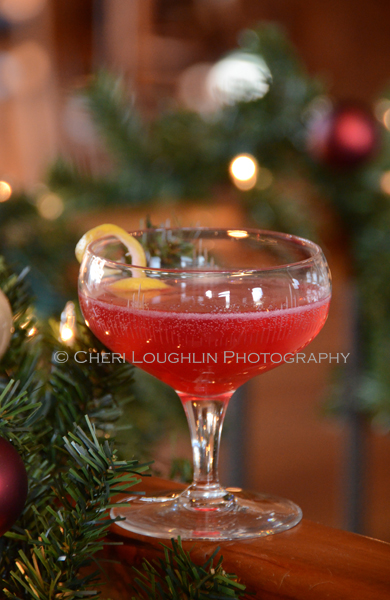 Homemade flavored syrups are a terrific way to add unique flavor to cocktails and non-alcoholic drinks. Add syrup to champagne or club soda for a quick and easy tasty treat. This particular syrup goes the extra mile by providing double duty at the breakfast table. Blueberry Lavender Syrup is wonderful drizzled over pancakes and waffles.
Blueberry Lavender Syrup Recipe
Blueberry Lavender Syrup – recipe by Mixologist Cheri Loughlin
8 cups Sugar
4 cups Water
1 pound fresh or frozen Blueberries
1/2 cup Lavender
Zest & Juice of 1 Lemon
Place all ingredients in saucepan over medium low heat. Stir continually until liquid begins to simmer. Remove from heat. Strain into heat proof container with lid. Store in refrigerator.
Blueberry Lavender Syrup Cocktail Recipes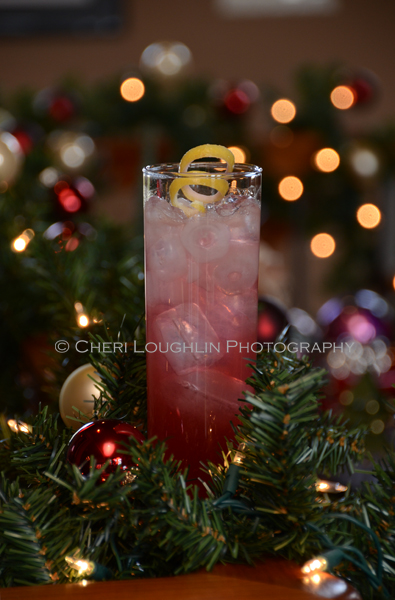 Blueberry Lavender Syrup is perfect for the holidays. I created four holiday cocktails using with vodka, bourbon, tequila and champagne to demonstrate the versatility of this extraordinary flavored syrup.
Blushing Blue is an excellent choice for holiday brunch. Skip the usual Mimosa or Bellini and put a little unique holiday spin on the day. Blushing Blue can be sipped with champagne or club soda so it is versatile enough for all guests in attendance.
Jubilant Blue Bells adds a bit of festive vodka cheer to the Blushing Blue cocktail above.
Blue Bourbon Frost goes long on flavor making this an excellent choice for holiday parties. Build this drink in a highball glass with a splash of club soda. Guests can enjoy a tall flavorful drink and lengthy conversation.
Margaritas never go out of style. Blue & Silver Bells modifies the traditional margarita in festive holiday style. Silver tequila shines alongside the lightly fruited flavor and beautiful color in the Blue & Silver Bells cocktail.
All content ©2012 Cheri Loughlin, The Intoxicologist. All Rights Reserved. Chat with Cheri @Intoxicologist on Twitter and facebook.com/Intoxicologist or str8upcocktails@gmail.com