Orgeat Syrup, almond flavored syrup, is a standard ingredient in the popular classic Mai Tai drink. It is also another one of those difficult to find syrups. Not every liquor store or grocer carries Orgeat Syrup, but that doesn't mean it has to be omitted from any cocktails you might like to try. Just take a little time and make your own. This particular recipe yields a little over half a gallon of Orgeat Syrup making this an excellent gifting or sharing idea.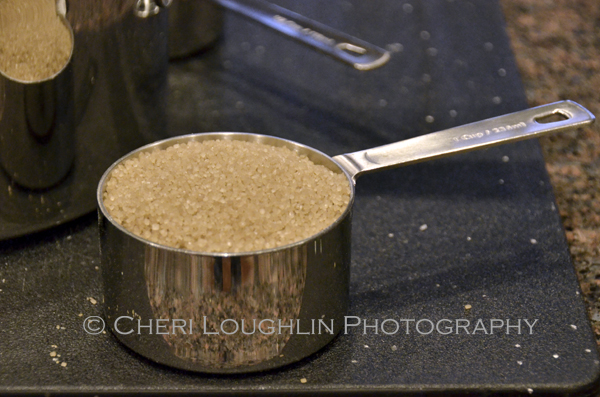 Orgeat Syrup has a tendency to separate whether store bought or made at home. Simply shake before use.
Try your hand at a few of these cocktail recipes with Orgeat Syrup inclusion.
Orgeat Syrup
1 pound Blanched Almonds – no salt
3/4 pound Demerara Sugar
3/4 pound Granulated Sugar
1 tablespoon Orange Flower Water
2 teaspoons Almond Extract
11 ounces Water
32 ounces Water – Boiled
2 ounces Vodka – optional
Place almonds and 11 ounces of water in blender. Blend until almonds are roughly chopped. Pour into wide mouthed, heat resistant glass jar. Add 32 ounces boiling water. Stir. Allow to stand for approximately three hours. Double strain through cheesecloth into large saucepan. It may be necessary to press liquid mixture through cheesecloth with wooden spoon. Fold ends of cheesecloth up around remaining pulp mixture and squeeze out all remaining liquid. Do not skip this step since the pulp contains a fair amount of flavor. Discard cheesecloth.
Add sugars to liquid mixture in saucepan. Heat over low heat until all sugar is dissolved. Remove from heat. Allow to cool. Add in orange flower water and almond extract. Add vodka if desired. Vodka acts as a preservative in this case. Funnel mixture into bottle with lid. Store Orgeat Syrup in refrigerator.
Twitter, Facebook, StumbleUpon – str8upcocktails @ gmail.com – ©2013 Cheri Loughlin-The Intoxicologist, All Rights Reserved.