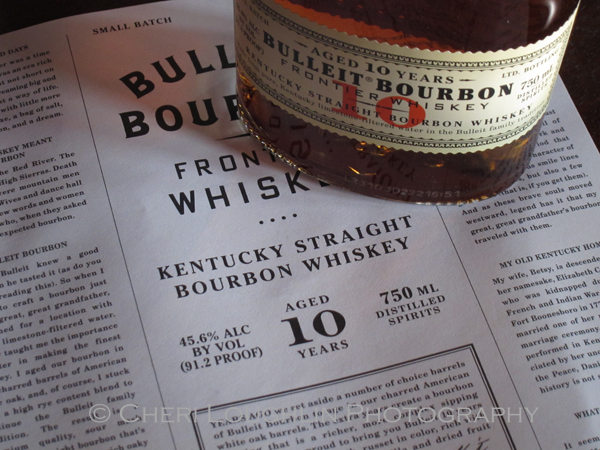 Small batch. Ltd. Bottling. Made from pure, Kentucky limestone-filtered water in the Bulleit family tradition.
"Consistently smooth russet in color, rich with oaky aromas and hints of vanilla and dried fruit with a long finish." – flavor description notes from media materials
91.2 Proof / 45.6% alcohol
Suggested Retail Price: $45 range
Tasting Notes
Color: Bronze / Gold
Aroma: Orange pulp mixed with essential oil from citrus peel. Breath of perfume. Oaky. Spice.
Tasted Neat: Perfumed. Lightly sweet. Some burn, but not hot as expected. Peach. Cinnamon spice with light vanilla evening out the oak.
Mouth Feel: Medium
Comparable Spirit: Somewhere between Knob Creek (drier, strong) and Woodford (lush with nutty sweetness)
Possible Uses, Pairings and / or Cocktails:
Truly built for straight pour, on the rocks serve in my opinion. However, there is always room to dabble in high end spirited cocktails once in a while. So try this one on for size in a favorite bourbon drink if you choose.
Review sample courtesy representatives of Bulleit Bourbon
Twitter, Facebook, StumbleUpon – str8upcocktails @ gmail.com – ©2013 Cheri Loughlin-The Intoxicologist, All Rights Reserved.
Review: Bulleit Bourbon Frontier Whiskey Aged 10 Years