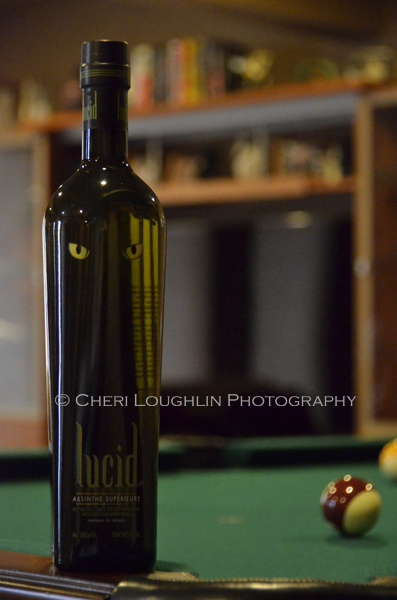 Reprinted in part from 2008 review. New information and recipes added.
Lucid took the United States by storm in 2007 after Viridian Spirits negotiated the return of genuine absinthe to U.S. soil after years of it being prohibited. Since March of 2007, Lucid has become quite the hot commodity in markets where imbibers look for the unusual and daring.
124 proof / 62% alco/vol
Suggested Retail Price: $59.99 for 750ml bottle
Available in both on- and off- premise locations throughout the United States
Imported by Viridian Spirits, the exclusive U.S. importer of T.A. Breaux's Jade Liqueurs' Nouvelle-Orleans Absinthe Supérieure. Available in the U.S., unchanged from its original formulation.
Lucid contains no commercial oils, essences, extracts, artificial coloring or other non-traditional ingredients.
After being prohibited in the U.S. for such an extensive time period many may not know what absinthe really is. Genuine absinthe is always distilled directly from a mixture of whole herbs in a neutral spirit of agricultural origin. The herbs must include Grande Wormwood, European green anise and sweet fennel and may also include other culinary herbs. The traditional green color is derived directly from the whole herbs and never from artificial colorant or chemicals. Absinthe never contains sugar as bottled; therefore it should not be classified as a liqueur. The high concentration of alcohol (60-70% on average) is needed to preserve the herbal content and natural green color. Lucid starts out at 124 proof, but the traditional French manner of preparing absinthe lowers the alcohol content to approximately 30 proof for sipping purposes.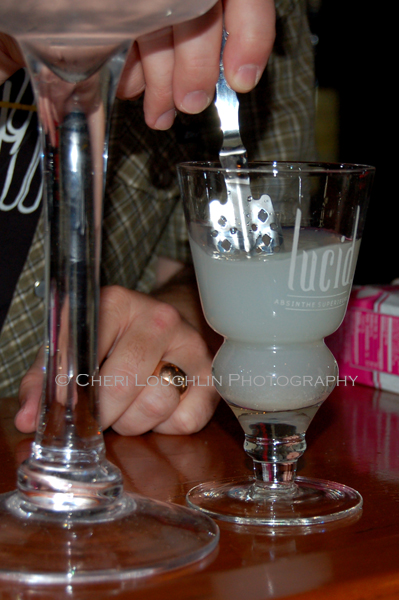 The flavor of Lucid is an acquired taste for sure. Straight out of the bottle and into a glass, the flavor is too strong for me to say the very least. But I wanted a clear picture of what I was getting into with this tasting. Even though there is no sugar in the bottling of Lucid itself, there seems to be just a hint of sweetness in the finish. Possibly this stems from the neutral spirit the herbs are distilled in. The taste of licorice is extreme. If you are a fan of licorice, this is a spirit for you.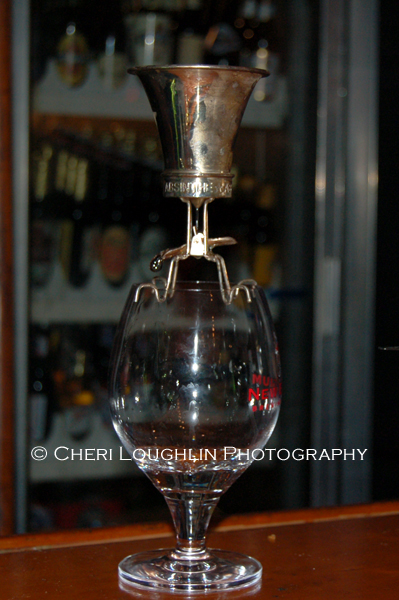 I was fortunate enough to have a spirits aficionado, Dan Crowell, lead me through the tasting of Lucid. He not only had an old-fashioned absinthe Brouillier that sits upon individual glasses, but he also had the Lucid Absinthe fountain. I have to say the old world charm of the Brouillier captures the history of bartending for me. Incorporating old and new is what modern day cocktailing is all about. We can never forget that bartending is an actual craft.
"Louching" occurs when the water mixes with the absinthe. This causes an opalescent cloud of herbal essences and fragrance to rise from the spirit.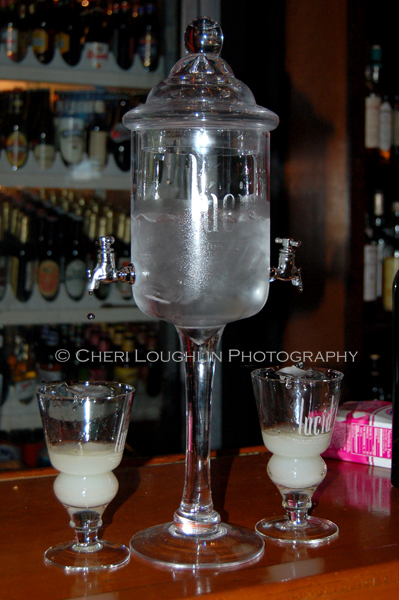 Dan prepared the Lucid in the traditional French manner, explaining each step as he went along. As the water drips over the sugar cubes, through the slotted absinthe spoon and into the Lucid, it begins to cloud, releasing the herbal essence within the spirit. The scent of the licorice permeates the area.  Once four to five ounces of ice-cold water have been dripped into the Lucid, it is time to taste. To be perfectly honest, Lucid prepared in this manner has the flavor of Good & Plenty Licorice candies. It is light and sweet on the palate with certain gentleness to it. There is definite licorice flavor to be sure, but it is not harsh. While I am not a fan of licorice or anise, sipping Lucid in the true way it was meant to be consumed opened my eyes to something new I may have never tried otherwise. 
Lucid is truly a unique spirit worth learning about. The traditional French method is not the only way to try Lucid either. Lucid went to great lengths to appeal to the masses. Their Lucid cocktails are a testament to this fact.
The Mint Muse – variation on a classic Mojito
1-1/2 ounce Lucid Absinthe Supérieure
2 ounces Pineapple Juice
Lemon Lime Soda
6 to 8 Mint Leaves
Lime Wedge
Mint Sprig Garnish
Muddle mint leaves and lime wedge in bottom of cocktail shaker. Add Lucid, juice and ice. Shake to blend. Pour into highball glass. Top with lemon lime soda. Garnish with mint sprig.
Van Gogh
2-1/4 ounce Gin
3/4 ounce Lucid Absinthe Supérieure
1/4 ounce Black Currant Syrup
Combine liquids in cocktail shaker with ice. Shake to blend. Strain into rocks glass over ice.
Review sample courtesy representatives of Lucid Absinthe Supérieure
www.facebook.com/LucidAbsintheSuperieure & www.twitter.comLucidAbsinthe
Subscribe to the monthly Newsletter
All content ©2015 Cheri Loughlin, The Intoxicologist. All Rights Reserved. Chat with Cheri @Intoxicologist on Twitter and facebook.com/Intoxicologist
Review: Lucid Absinthe Supérieure