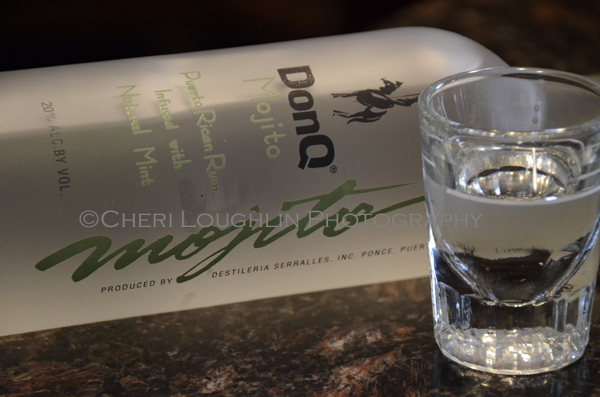 Puerto Rican Rum Infused with Natural Mint
40 Proof / 20% alcohol
Suggested Retail Price: $12 to $15 range
Availability: United States offices opened in June 2009 with the purpose of increasing availability to all fifty states.
Tasting Notes
Color: Clear
Aroma: Light mint. No burn. Like Rigley's Spearmint Gum aroma-wise.
Tasted Neat: Sweet with rush of sour almost immediately. Sweet to sour as in a sweet tart kind of way. Made my mouth water. Mint flows through nicely. Warming at back of throat. Perhaps tartness is hint of lime. Comes across as soft yet tart apple.
Mouth Feel: Lower end of medium. Not too thick even with the sweetness. Not too thin either.
Possible Uses, Pairings and / or Cocktails: Could possibly top with plain club soda and add a hint of extra simple syrup to sweeten the deal. More mint is always good. Betting this would be great in lemonade with splash of 7-UP or Sprite.
It would be fascinating to see the infusion process of natural fruit and/or herbs since the mint works so well with this one.
Find more DonQ Rum Reviews & Cocktails on this site by following the link.
DonQ Lazy Mojito
3 ounces DonQ Mojito Rum
2 ounces Club Soda
Lime Wheel & Mint Sprig Garnish
Build in highball glass over fresh ice. Garnish with lime wheel and fresh mint.
DonQ Mo-Tea-To
2 ounces DonQ Mojito Rum
3 ounces Unsweetened Iced Tea
1/2 Lemon – Juiced
Lemon Wedge & Mint Sprig Garnish
Build in highball glass over fresh ice. Garnish with lemon wedge and fresh mint.
Review sample courtesy representatives of DonQ Rum
Twitter, Facebook, StumbleUpon – str8upcocktails @ gmail.com – ©2012 Cheri Loughlin-The Intoxicologist, All Rights Reserved.