EPIC Classic Vodka provided by brand representatives. All bottle photos and opinions are my own unless otherwise stated.
About EPIC Classic Vodka
Made with vodka imported from France. Imported by Sazerac Company, Louisville, KY. Product of Canada.
Triple distilled vodka with natural flavors. Epic is crafted with hand-selected wheat harvested from the Champagne region in France and distilled in the Cognac region.
80 Proof / 40% alcohol
Suggested Retail Price: $12.99 / 750ml
Availability: Epic began shipping to approximately 30 US states in February with the goal to become nationwide as the year progresses.
EPIC Vodka will be available in Peach, Whipped Cream, Kiwi Strawberry, Cherry, Cake and Coconut flavors at 70 proof / 35% alcohol. More flavors projected at a later date.
EPIC Classic Vodka Tasting Notes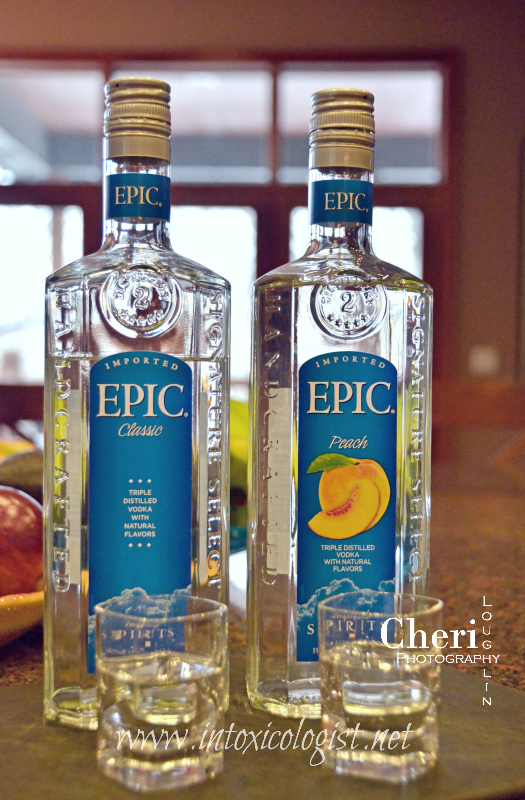 Color: Clear
Aroma: Faint vanilla. Little to no burn.
Tasted Neat: Slight burn. No metallic taste which is sometimes the case when tasting vodka neat. Roundness. Soft vanilla. Faint pepper.
Mouth Feel: Medium. Nice weight to this one.
Possible Uses, Pairings and / or Cocktails
All the usual vodka cocktail suspects really. I would definitely sip this on the rocks with a lime or lemon twist.
Epic suggests an EPIC Martini using 1-1/2 ounce EPIC Classic Vodka and 3/4 ounce Dry Vermouth with Olive Garnish. They also veer toward James Bond style; shaken rather than stirred.
Epic embraces the 'here and now' lifestyle. The life you're living right now; it's the life that matters most with the people who matter most. Significant moments aren't just identified by milestones such as birthdays, graduations, promotions and weddings. Memories are built upon some of the most minor occurrences; backyard barbeques, impromptu neighborhood gatherings, tailgate parties and unexpected guests. The most memorable, most epic experiences aren't always the scrapbook events.
These everyday events taking place in your life; these are the Epic moments to embrace as THE "real" life. Let Epic be the brand that brings easy mixing, affordability and simplicity to your gatherings.
Find more information at EPIC Vodka & Sazerac – @EPICVodka on Twitter – EPICVodka on Facebook
Subscribe to the monthly Newsletter
All content ©2016 Cheri Loughlin, The Intoxicologist. All Rights Reserved. Chat with Cheri @Intoxicologist on Twitter and facebook.com/Intoxicologist
Cheri Loughlin is the Omaha writer and photographer behind www.intoxicologist.net and author of Cocktails with a Tryst: An Affair with Mixology and Seduction. You can email Cheri with comments and questions at str8upcocktails@gmail.com.
Review: EPIC Classic Vodka