One of the drawbacks of working with cocktails and spirits on a daily basis is deciding what to order from cocktail menus when I go out for drinks. I know; sounds like a horrid problem. But it really is difficult. Often the same handful of classic cocktails appear on the menu with a variety of either way too sweet or way too outlandish signature drink recipes on the opposite side.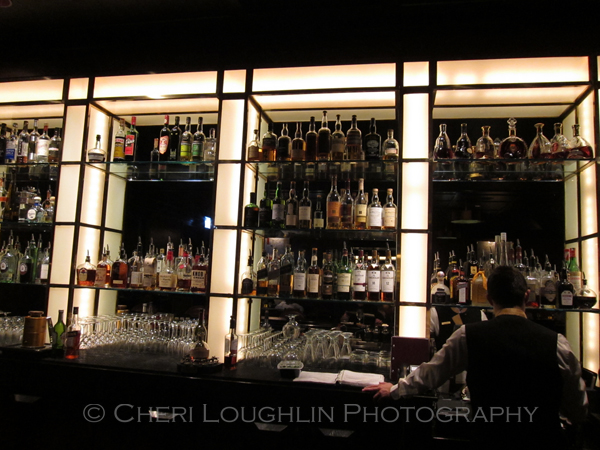 Two weekends ago I was fortunate enough to visit one of my favorite Chicago hotel bars; The Bar at The Peninsula Chicago. The Bar is a chosen favorite due to the superior quality of service, its intimate, yet dynamic atmosphere and the attention to detail that goes into the cocktails offered on the menu as well as the manner in which they are served. The Bar's staff is superb for their cocktail knowledge, skill and the manner in which they regard every guest with special attention.
Though I've enjoyed the Vieux Carré cocktail before, I usually enjoy this classic cocktail served up in a martini glass. The Bar serves the Vieux Carré on the rocks as it was originally intended. This 1930's classic cocktail was the creation of Walter Bergeron and named after an old French term in relation to New Orleans' French Quarter (le Vieux Carré) meaning, "the Old Square."
Vieux Carré Cocktail
3/4 ounce Rye Whiskey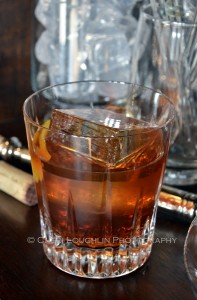 3/4 ounce Cognac
3/4 ounce Sweet Vermouth
1 Barspoon / 1 teaspoon Benedictine
2 dashes Angostura Bitters
2 dashes Peychaud's Bitters
Lemon Twist
Combine liquids in cocktail shaker with ice. Stir or shake to chill. Strain into rocks glass over fresh ice. Garnish with lemon twist.
How appropriate the Vieux Carré cocktail continues to make an appearance on hotel bar cocktail menus as it was originally created at what now is the Hotel Monteleone in New Orleans. Its hotel bar, Carousel Bar, sometimes substitutes dry vermouth for sweet vermouth. Try the Vieux Carré drink recipe both ways to see how you prefer it.
Though the Martinez cocktail comes up often in social media chatter, I rarely see this particular drink recipe on cocktail menus. It's also a cocktail recipe I've never personally stirred up and poured for myself. When I saw it on The Bar cocktail menu it was an immediate must-try.
The Martinez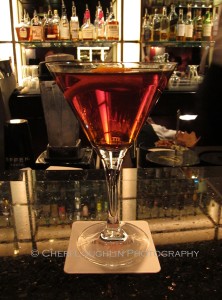 2 ounces Carpano Antica Formula (Sweet Vermouth)
1 ounce Ransom Gin
1 Tablespoon Luxardo Maraschino Cherry Liqueur
Dash Angostura Bitters
Lemon Peel Garnish
Combine liquids in cocktail shaker with ice. Stir to chill. Strain into chilled martini glass. Garnish with fresh lemon twist.
The Martinez is fairly sweet with a unique flavor combination achieved with the inclusion of the Luxardo Maraschino Cherry Liqueur. This classic cocktail is a predecessor to the classic Martini. Once dry vermouth became plentiful, the Martinez took a back seat to the Martini and bar goers hardly looked back from their Gin Martinis. They just began adding a wider variety of garnish. If you take a closer look at the ingredients you'll see the Manhattan in its early stages.
Ironically I just talked about the inclusion of the Champs Elysées classic cocktail on another restaurant's bar menu last week. This is another cocktail I've sipped martini style, but The Bar serves on the rocks. I sampled this drink recipe martini style and on the rocks at The Bar in Chicago to test a theory; would it taste differently if it were made exactly the same, yet served differently? The answer; yes it did and I will most likely sip this one on the rocks from here on out. It was that much better in my opinion.
Champs Elysées
1-1/2 ounce Cognac
1/2 ounce Green Chartreuse
3/4 ounce Lemon Juice
1/2 ounce Simple Syrup
1 dash Angostura Bitters
Lemon Twist – Optional
Combine liquids in cocktail shaker with ice. Shake to blend and chill. Strain into chilled martini glass. Garnish with lemon twist.
The Champs Elysées recipe I posted last week is a little different than the one here. Last week I modified the classic to my taste preference. This week the recipe appears as it is most often referenced by authorities in classic mixology. This version produces a bit sweeter cocktail than my adjusted variation.
The Bar at The Peninsula Chicago also served another favorite; the Corpse Reviver. This cocktail is often thought of around Halloween time due to its name, but the Corpse Reviver is a refreshing cocktail ideal for leisurely summertime sipping. It's lightly tart with an almost sparkling lilt to it with its faint absinthe inclusion. It's a drink recipe that should make every classic cocktail enthusiasts "must-try" list.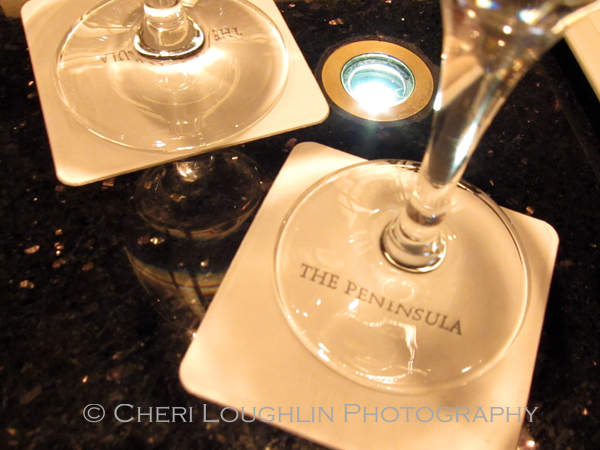 There really is something for everyone at The Bar at The Peninsula Chicago. Scotch flights for the whisky enthusiast, signature cocktails for the adventurous cocktail lover, wine and champagne and of course an array of delicious menu items from the hotel's wonderful restaurants. Be sure to stop in at The Peninsula Chicago whether it's for an evening's stay, dinner or for a drink before evening plans. You'll be treated well.
Thank you to The Bar's manager, James, and bartenders, Erik, Tim and Loran for magnificent service, entertaining conversation and delicious cocktails while dining and sipping at The Bar at The Peninsula Chicago.

Twitter, Facebook, StumbleUpon – str8upcocktails @ gmail.com – ©2013 Cheri Loughlin-The Intoxicologist, All Rights Reserved.
Classic Cocktails at The Peninsula Chicago