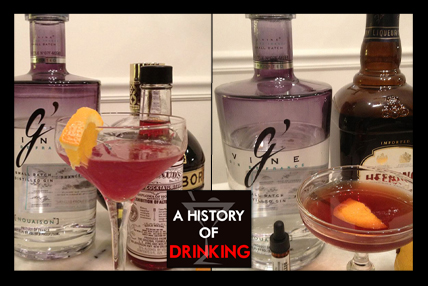 Guest Post by Greg Priebe of A History of Drinking – On May 14, 1643, Louis XIV, the only surviving son of Louis XIII and Anne of Austria, became the king of France at age 4 upon the death of his father. He was a mere 4-1/2 years old at the time. Legend has it that when the dying Louis XIII asked his son if he knew who he was, the young boy replied confidently, "Louis the Fourteenth, father".
Louis (aka "The Sun King") was the epitome of the absolute monarch and a great patron of the arts. Under his gaze, France would become the cultural center of the world but his rule would also be marked by a series of complicated wars on the European continent.
Louis would rule until to his death by gangrene at age of 76 in September 1715, a total of 72 years and 110 days, the longest ever in European history. He outlived all of his sons (the 3rd eldest now King of Spain and as so, was disqualified from the succession) and grandsons, so the crown eventually passed to his great-grandson, Louis, Duke of Anjou.
Our first Cocktail tie-in was adapted from a discussion on the Oh Gosh! cocktail blog, but we decided to give it more of a French/Creole twist. London Dry Gin has been replaced by the French G'Vine Gin and the original Angostura bitters are swapped out in favor of Peychauds. Conveniently enough, Chambord was inspired (if you believe the press materials) by "a luxurious raspberry liqueur produced for King Louis XIV" during his visit to eponymous Chateau in the 17th century.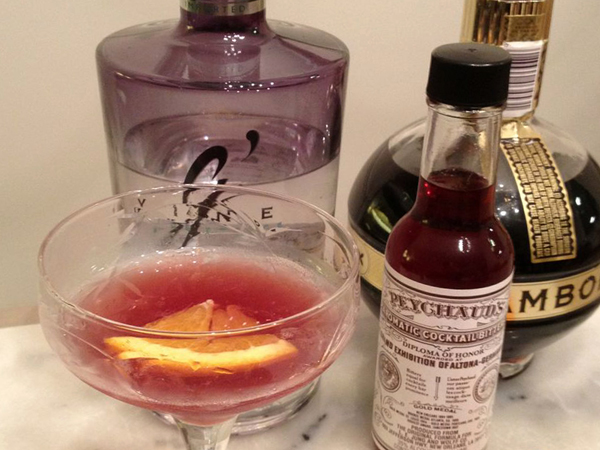 Louis XIV
2 ounce Chambord
1 ounce G'Vine "Nouaison" Small Batch Gin
2 dashes Peychauds bitters
A squeeze of Orange Juice
Glass: Cocktail
Garnish: Orange Slice
Shake with ice and strain into a chilled cocktail glass. Garnish with an orange slice.
Next, we have "The Sun King" cocktail and once again, we've replaced the original recipe's standard London Dry gin with G'vine's "Nouaison". The aim was to lighten the juniper notes a bit, but not go so far as to add something as delicate as G'vine's "Floraison" offering. The type of bitters used in this drink varies a bit depending on the source, but we decided to go with the fantastic Mexican Mole bitters produced by Bitter End.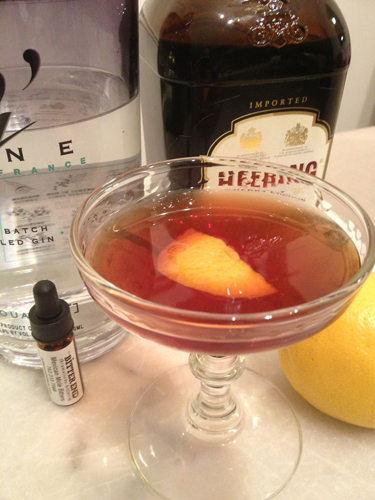 The Sun King
Original recipe by Combier, adapted from Barnonedrinks.com
1 ounce Cherry Liqueur (the original called for Combier Rouge Cherry Liqueur, we used Heering Cherry)
1-1/2 ounce G'Vine "Nouaison" Small Batch Gin
3 dashes Bitter End's Mexican Mole Bitters
1 Sugar Cube
Lemon Peel
Glass: Cocktail
Garnish: Orange peel Instructions
In a mixing glass, muddle the sugar cube with the bitters and lemon peel. Add the Cherry Liqueur and Gin with cracked ice and stir for approx. 20 seconds or until the glass feels uncomfortably cold. Strain into a cocktail glass. Garnish with an orange peel.
Greg Priebe is a part time event bartender, amateur historian and full time educator. A longtime cocktail, beer and spirit enthusiast, he started the A History of Drinking blog in 2009. A History of Drinking can be found on twitter under the handle @drinkinghistory and on Facebook at facebook.com/ahistoryofdrinking
All Content ©2013 Cheri Loughlin, The Intoxicologist. All Rights Reserved. Chat with Cheri @Intoxicologist on Twitter & facebook.com/Intoxicologist – or email str8upcocktails@gmail.com
A History of Drinking Guest Post: Louis XIV