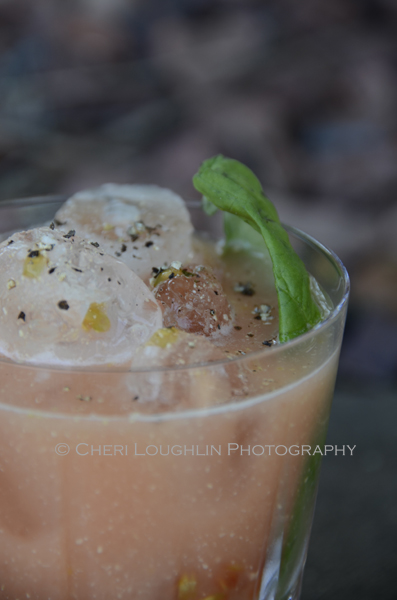 A Bloody Mary Bar full of options is a great choice for game day. The Bloody Mary is almost as much meal as it is liquid fulfillment. This makes it an excellent choice to include in early morning tailgate parties. Let's face it, the name of the game when it comes to tailgating is keep the football drinks flowing and have plenty of munchies. The Bloody Mary Bar checks both items off your list at the same time.
The Bloody Mary Bar should include everything guests will need to build their own custom made Bloody Mary drink. This way guests serve themselves so everyone enjoys the game.
Bloody Mary Bar Necessities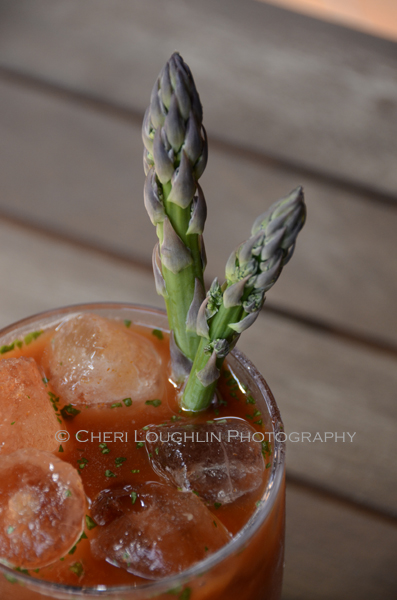 Printed card with basic Bloody Mary recipe measurements and instructions

Glassware or plastic cups

Cut lemons and limes, salt filled dish for rimming glasses if desired

Ice. Extra ice. More ice to spare. Never run out of ice!

Base spirits such as vodka, tequila, rum, whiskey, sake and even beer

Tomato juice, Clamato Juice, and/or Bloody Mary Mixer of choice

Spoons, stir sticks or straws for stirring drinks

Measuring cup for measuring liquids
Bloody Mary Garnish Bar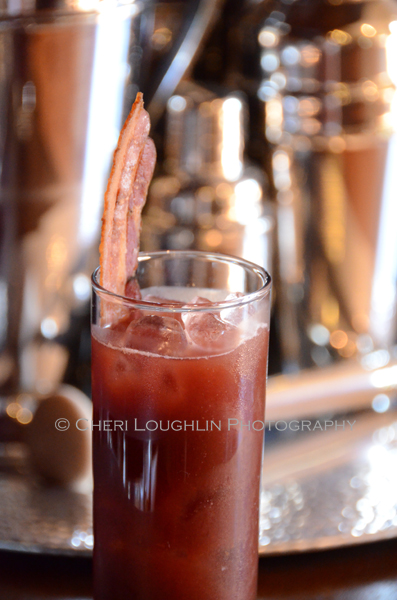 This is where the true fun begins. Everyone has their own signature twist, secret ingredient, special Bloody Mary addition. Give them the works in the garnish station.
Seasonings: Horseradish, Tabasco, Garlic, Dill, Worcestershire Sauce, Steak Sauce, Vinegar, Salt, Pepper, Celery Salt. Habanero Sauce, Beef Bouillon, Garlic Pepper, Old Bay Seasoning or Creole Seasoning, Ginger, Classic Bitters,…the sky is the limit!
Garnishes: Celery stalks, asparagus spears, pickled cucumbers or pickles, bell pepper strips, pepperoncini, carrot sticks, speared grape or cherry tomatoes, pearl onions, garlic or jalepeno stuffed green olives, mozzarella balls, cocktail shrimp, bacon, beef jerky, fresh raw oysters, fresh basil, lemon, lime, chili pepper, green onion, sliced radish,…the list could go on and on.
Basic Bloody Mary for Recipe Card
Basic Bloody Mary
1-1/2 ounce Base Spirit of Choice – usually Vodka
4 to 6 ounces Tomato Juice or Clamato Juice
2 to 3 dashes Worcestershire Sauce
1 to 2 dashes Tabasco or Hot Sauce of choice
Squeeze of Lime
Dash Celery Salt
Dash Pepper
Salted Rim
Rim glass with lime. Dip into salt. Fill glass with ice. Season ice with lime juice, celery salt, pepper and sauces. Add spirit of choice. Top with tomato or clamato juice. Stir. Garnish as desired.
Easy Bloody Mary Bar Mix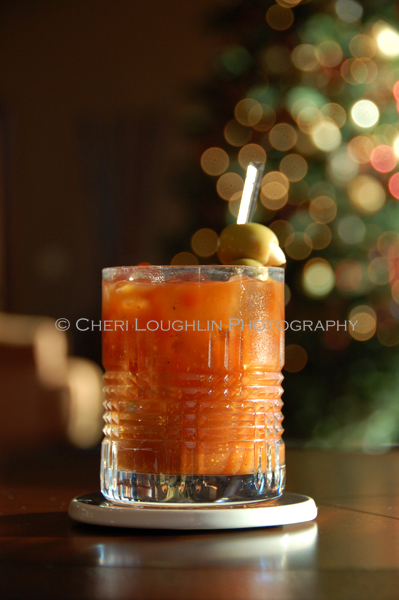 I like to start with a homemade Basic Bloody Mary Mix. It is easy to make ahead of time. All guests have to do is pour when ready to make a drink. The recipe I have used the last year or so is adapted from Speakeasy written by Jason Kosmas and Dushan Zaric of Employees Only. The original recipe calls for a little less tomato juice, less capers, plain olive brine, more pepper and horseradish.
Basic Bloody Mary Mix
46 ounce bottle Tomato Juice
1 tablespoon Whole Capers – crushed
3 ounces Worcestershire Sauce
1 ounce Garlic or Jalepeno Olive Brine
1/2 teaspoon Celery Salt
3/4 teaspoon Ground Black Pepper
1 teaspoon Tabasco Sauce
Combine all ingredients in large pitcher. Stir until well blended. Cover. Refrigerate overnight to allow flavors to mingle. Stir before using. Will keep several days if kept refrigerated.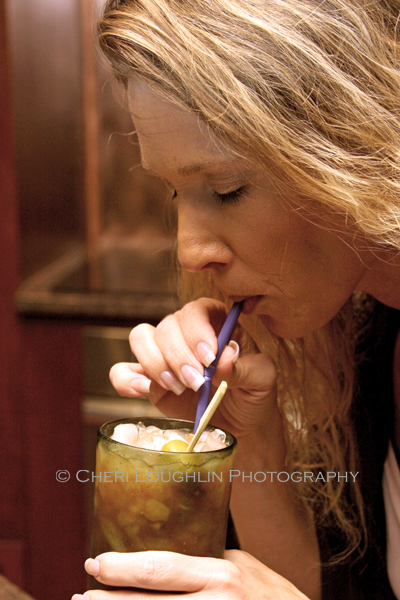 The build of the individual basic Bloody Mary varies just a little from Speakeasy here as well. Speakeasy uses 2 ounces vodka, 5 ounces mix with 1/2 ounce fresh lemon juice. I prefer Bourbon in my Bloody Mary. In this recipe I usually use Wild Turkey Rare Breed. Since Bourbon leans a little heavier on proof than vodka, I dial down the measurement a little. I also don't care for such a large Bloody Mary, so my version is a wee bit smaller. Adjust according to your preference!
Basic Bloody Mary
1-1/2 ounce Bourbon – or base spirit of choice
3 ounces Basic Bloody Mary Mix – as shown above
Celery Stalk Garnish
Build in rocks glass over fresh ice. Garnish with celery stalk
When I am feeling ridiculously ambitious I break out the fresh mozzarella balls, sliced pepperoni, grape tomatoes and just about anything else I can put on a garnishing stick.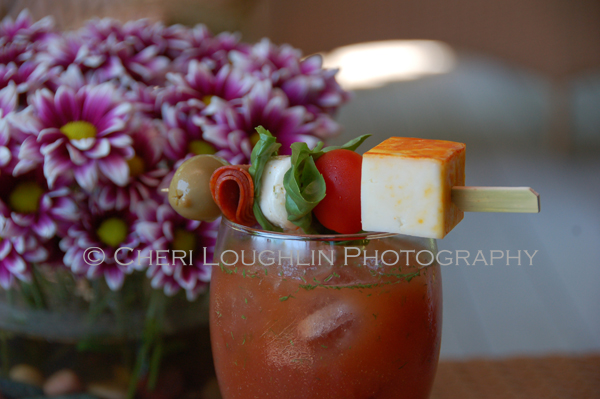 Kick back. Relax. Enjoy the company of friends. Watch some football. By the way, the Bloody Mary Bar is perfect for Sunday Brunch too! Cheers!
All content ©2013 Cheri Loughlin, The Intoxicologist. All Rights Reserved. Chat with Cheri @Intoxicologist on Twitter and facebook.com/Intoxicologist or str8upcocktails@gmail.com
Build Your Own Bloody Mary Bar