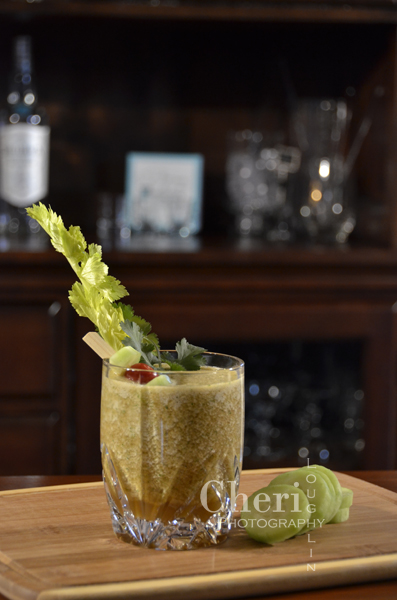 Yes, it's green! And yes, it does taste great! The spice is a real kicker, too. After a weekend with a little too much imbibing, a little spice and a lot of fresh veggies is a good thing.
Since green smoothies are all the rage, it's time to get your Green Mary on! Fresh cucumber and cilantro blend beautifully in this delicious spicy green frozen Mary's Morning After Bloody Mary. I won't go so far to say that alcoholic beverages are healthy, but this green Bloody Mary with fresh veggies blended in are one small step in the right direction. You will truly be drinking fresh. Take fresh a step further by substituting peeled fresh tomatoes for the tomato juice.
Mary's Morning After Green Bloody Mary Recipe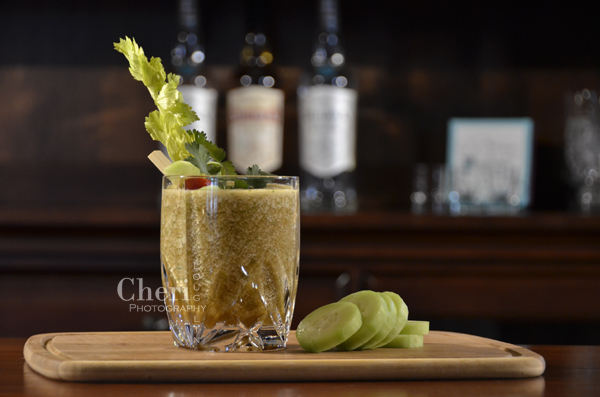 Mary's Morning After – recipe by Cheri Loughlin, The Intoxicologist
1-1/2 ounce Shellback Silver Rum
4 ounces Tomato Juice
1/4 ounce Lemon Juice
2 teaspoons Green Olive Juice
2 long dashes Worcestershire Sauce
2 long dashes Tabasco (1 for less spicy)
7 – 1/4 inch slices Fresh Cucumber – Peeled
20 Fresh Cilantro Leaves
1 cup Ice
Celery Stalk, Cilantro Sprig, Cucumber Slice, Tomato
Place rum, tomato juice, lemon juice, green olive juice, Worcestershire sauce, Tabasco, cucumber slices, cilantro leaves and ice in a blender. Blend on high until mixture is completely smooth. Pour into a large rocks glass (no ice) or tall glass. Garnish with a celery stalk, cilantro sprig, cucumber slice and fresh tomato.
This Mary's Morning After green Bloody Mary recipe was commissioned by representatives of Shellback Rum as part of the Corporate Mixology program offered by Cheri Loughlin, The Intoxicologist. Find more recipes created by Cheri Loughlin for Shellback Rum on this site and at ShellbackRum.com and by following Shellback Rum on Facebook.
All content ©2014 Cheri Loughlin, The Intoxicologist. All Rights Reserved. Chat with Cheri @Intoxicologist on Twitter and facebook.com/Intoxicologist or str8upcocktails@gmail.com
Mary's Morning After Green Bloody Mary