The Rum Runner Tiki drink supposedly dates back well into the 50's. There are a variety of recipes roaming the internet. Some are all equal measurements for each ingredient. That makes the recipe super easy to remember, but not necessarily balanced with all the flavors. Some recipes contain light rum and dark rum. Other Rum Runner adaptions are built on the rocks for quick, easy preparation.
The Frozen Rum Runner below was created specifically for blending. It contains a little extra crème de banana for deep, sumptuous tropical feel. Pomegranate molasses is used in place of ordinary grenadine. This helps bind the lovely fruited flavor together throughout the blending process so the Frozen Rum Runner does not become too watered down with the addition of extra ice.
Shellback Rum Frozen Rum Runner Recipe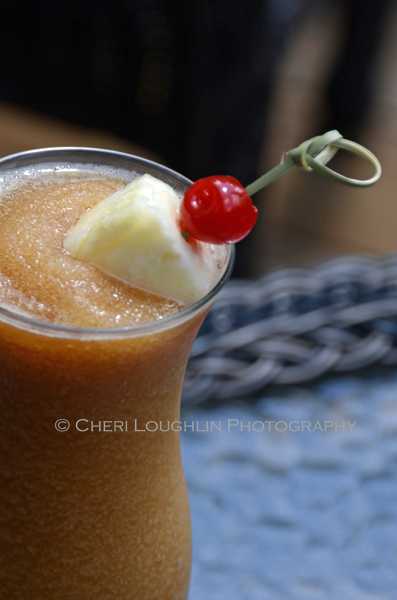 Frozen Rum Runner – recipe by Cheri Loughlin, The Intoxicologist
1-1/2 ounce Shellback Spiced Rum
1/2 ounce Blackberry Brandy
3/4 ounce Crème de Banana
1/2 ounce Pineapple Juice
1/2 ounce Orange Juice
1/2 ounce Pomegranate Molasses
12 ounces Crushed Ice
Maraschino Cherry & Pineapple Slice Garnish
Place all ingredients in blender. Blend until completely smooth. Pour into hurricane glass or goblet. Garnish with pineapple slice and maraschino cherry. – Grenadine could be substituted for Pomegranate Molasses if needed.
The Shellback Rum Frozen Rum Runner drink recipe was commissioned by representatives of Shellback Rum as part of Corporate Mixology program offered by Cheri Loughlin, The Intoxicologist. Find more recipes created by Cheri Loughlin for Shellback Rum on this site and at ShellbackRum.com and by following Shellback Rum on Facebook and Twitter.
All content ©2013 Cheri Loughlin, The Intoxicologist. All Rights Reserved. Chat with Cheri @Intoxicologist on Twitter and facebook.com/Intoxicologist or str8upcocktails@gmail.com