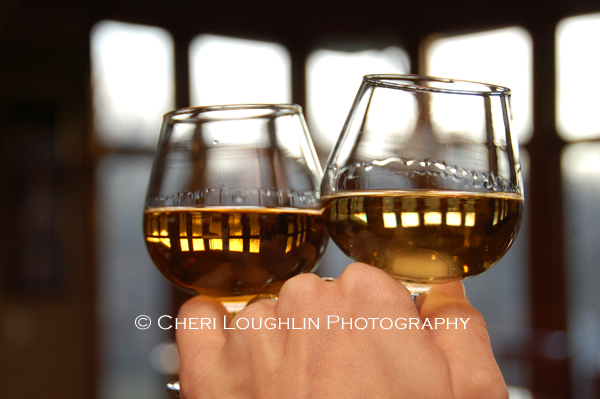 DonQ Gold Rum Tasting Notes
40% alcohol. 80 proof.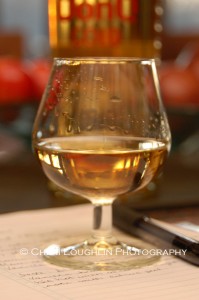 Straw color to gold. Reminds me of hay rides in warm fall weather. Very pleasant.
Aroma: Tad sharper on the nose than DonQ Anejo Rum. More relaxed sugar cane than molasses. Vanilla notes soften the sugar.
Taste: Also thinner than the Anejo. Much more burn. Vanilla bean more pronounced. A bit of alcohol hotness. Slight banana note with citrus peel.
Rum Runner long drink seems natural progression for the feel of DonQ Gold. The Rum Runner is also a fairly easy way to lose track of an evening rather quickly. Sip slowly.
Rum Runner – adapted by Cheri Loughlin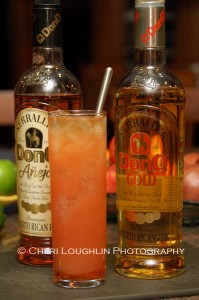 1 ounce Gold Rum
1/2 ounce Blackberry Brandy
1/2 ounce Crème de Banana
1/2 ounce Pineapple Juice
1/2 ounce Orange Juice
1/4 ounce Anejo Rum
Orange & Pineapple Slice, Maraschino Cherry Garnish – optional
Combine all liquids except anejo rum in shaker with ice. Shake to blend. Strain into large rocks glass or tall glass over fresh ice. Garnish with fruit if desired. Float Anejo Rum on top.
Tropical, sweet. Banana comes through primary. Would be terrific blended with ice. Might even be great with coconut cream. If optional garnish is used be sure to take the time to allow the fruit to marinate in the cocktail before eating. It's delicious that way!
High resolution digital photo downloads are available for brand, cocktail menu creation use and individual use at www.cheriloughlin.com within the Beverages category.
DonQ Gold Rum sample for review courtesy representatives of DonQ Rum. All opinions, reviews and spirits' coverage contained within are the personal opinion and decision of Cheri Loughlin, The Intoxicologist.