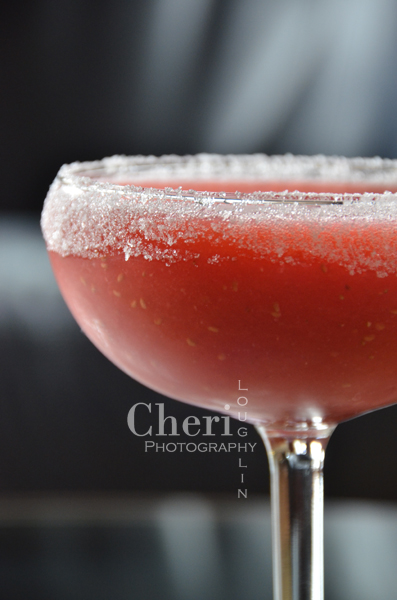 When it comes to cocktails we all want something easy when we are entertaining or trying to relax at the end of the day. Easy isn't the first thing that comes to mind when we think of frozen drinks. So let's make Frozen Strawberry Margaritas easy. We'll use four basic ingredients available any time of year with lime wedge and optional salt or sugar rim.
Frozen Strawberry Margarita Tips and Tricks
A common problem with Margaritas is way too much sugar. This Frozen Strawberry Margarita recipe calls for 4 to 6 ounces of thawed frozen lime concentrate. Be sure to stir the thawed lime concentrate before you measure it out. When you start blending, use 4 ounces and then taste to see if the mixture is right for you. Remember you can always add more, but it is much more difficult to dial it back. If the sweetness factor goes too far, individual drinks can also be modified with an extra squeeze or two of fresh lime.
I like to use frozen fruits in blended drinks to cut down on the need for ice. Ice causes water melt which in turn waters down the drink. Frozen fruits add extra flavor boost to the drink without watering it down. You can always flash freeze fresh fruit for later use rather than purchasing processed frozen fruit.
Sometimes it is best to place frozen berries in the blender first and then pour spirits over the frozen items. This starts a little melting process on the frozen berries to help give the blender a jump start so to speak.
Margaritas are traditionally rimmed with salt. This Frozen Strawberry Margarita gives the option of salt or sugar. My cocktail testers were undecided which way they liked this best; salt or sugar rimmed. You decide!
february 22 is National Margarita day! Share a margarita with someone and enjoy!
Frozen Strawberry Margarita Recipe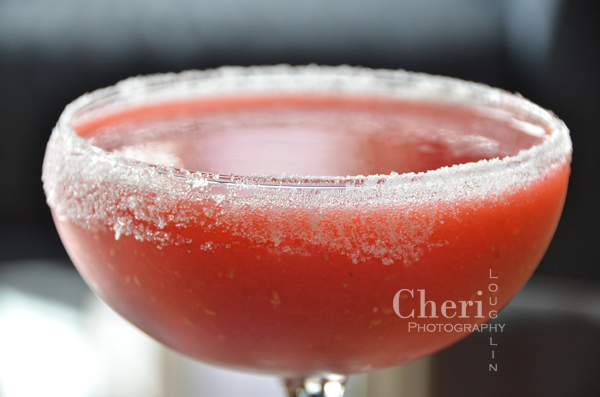 Frozen Strawberry Margarita – recipe by Mixologist Cheri Loughlin, The Intoxicologist
serves 4
8 ounces Silver Tequila
2 ounces Premium Orange Liqueur
4 to 6 ounces Frozen Lime Concentrate – thawed
16 ounce bag Frozen Sliced Strawberries – unsweetened
Lime Wedges
Salt or Sugar
Sparkling Lime Water – as needed
Wet the lip of a goblet or margarita glass with a lime wedge. Dip the rim in sugar or salt according to your preference. Set the glass aside.
Place the remaining ingredients in a blender (no ice). Blend until completely smooth. The mixture will be slightly thick. Pour into individual glasses or into a pitcher. If mixture is too thick for your taste, top with a little sparkling lime water and stir in according to preference. Garnish each drink with a lime wedge.
I would recommend Cointreau, Grand Marnier, 3O Premium Orange Liqueur or Gran Gala for the Premium Orange Liqueur depending on what you prefer in a premium liqueur. They are all a little different with varying degrees of sweetness. Good quality Triple Sec could also be used in this drink.
All content ©2014 Cheri Loughlin, The Intoxicologist. All Rights Reserved. Chat with Cheri @Intoxicologist on Twitter and facebook.com/Intoxicologist or str8upcocktails@gmail.com
Easy Frozen Strawberry Margarita