Belonging to all the world; polished; sophisticated; worldly, all embracing. We could also add to that description – versatile and limitless, as in the possibilities of what can be done with the Cosmopolitan cocktail.
This post has been reprinted from archives lost years ago. Cosmopolitan cocktails have been revamped, refreshed and renewed through the years. Though some see it as an overdone and often poorly made cocktail, it is truly a wonderful creation.
The Cosmopolitan or Cosmo cocktail came to be known by many during the glory day run of the HBO television series, Sex and the City from 1998 to 2004. It was the sophisticated pink cocktail of choice sipped by the character, Carrie Bradshaw, played by Sarah Jessica Parker who in a campy sort of way even went so far as to order a Cosmo at a drive thru burger window in one episode. 
Madonna is also given credit for helping the Cosmo "arrive" on the cocktail circuit. The paparazzi photographed a Cosmo in the hands of Madonna at the Rainbow room in 1996 and overnight the drink became a sensation the world over. Bartenders and restaurant managers from as far away as Germany and Australia called the Rainbow Room asking for the recipe. It was then that Dale DeGroff added the finishing touches of Cointreau and a flamed orange peel to the already existent recipe that has become the standard to which all others make their variations. 
So where did the Cosmopolitan get its start? Between 1956 and 1970 Ocean Spray advertised a series of drink recipes in their brochures and even on their bottles of juice. One of these drink recipes was the Harpoon. The Harpoon was simply vodka, fresh lime, and a splash of cranberry juice. Later, that drink evolved into what we know as the Cape Codder or Cape Cod. It still has the same ingredients, but in much different proportions with more cranberry and only a splash of lime. One drink built on the next.  What happened with the Cosmo is what likely happens with quite a few cocktails. A bartender here or there adds or takes away, gives a drink a twist here and a dash there, and pretty soon, one drink evolves into another drink. Harpoon…Cape Codder…Cosmopolitan.
Cosmopolitan Cocktails
In looking up the Cosmopolitan in several of my trusted cocktail books, not one of them had the exact same measurements as the next. This is not such an unusual find as you may have discovered in the bar books stocked on your own shelves. It is for this very reason that bartenders and drink enthusiasts alike begin tweaking cocktails to their liking. For the purposes of this experiment the basic Cosmopolitan recipe I've chosen comes from the Craft of the Cocktail by Dale DeGroff.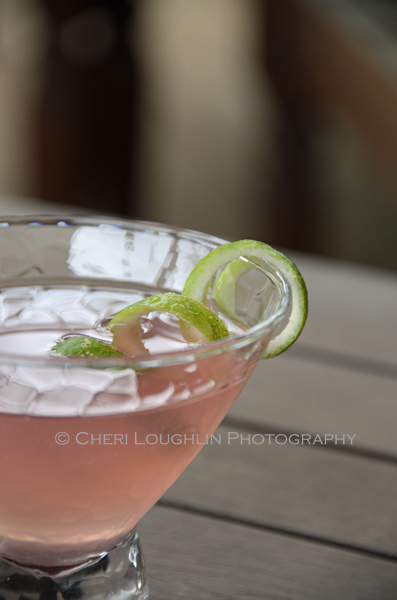 Cosmopolitan
1-1/2 ounce Citron Vodka
1/2 ounce Cointreau
1/4 ounce Fresh Lime Juice
1 ounce Cranberry Juice
Flamed Orange Peel for Garnish
Combine liquids in cocktail shaker with ice. Shake to blend and chill. Strain into chilled cocktail glass. Garnish with flamed orange peel. Dale discusses the step by step process of how to flame an orange peel in his book the Craft of the Cocktail.
What a curious bartender does with a cocktail such as the Cosmo is play with it a bit, modifying it to his or her particular taste. Sometimes the perfect recipe happens immediately, but often this comes about with much trial and error; modifying and fine tuning until the cocktail is revamped exactly so. 
Katie at Sullivan's in downtown Omaha has transformed the Cosmo with the addition of Cassis. The Cassis liqueur gives the Cosmo a deeper, pink to light purple color instead of the usual light pink hue. The black currant gives it a flavor that is unique to the berry family. It has a slight edge to it that goes beyond the bitter, but is not too syrupy. The addition of the Cassis gives the cocktail a more full bodied flavor where the original Cosmo could be described as thinner in comparison. Since Cassis is more unfamiliar than other liqueurs, adding it to a Cosmopolitan is daring to say the least. Exploring something new with something virtually unknown is quite adventurous. I suggest you try the same. While Katie didn't give me her exact recipe here is something you could try with the Cassis and the Cosmo…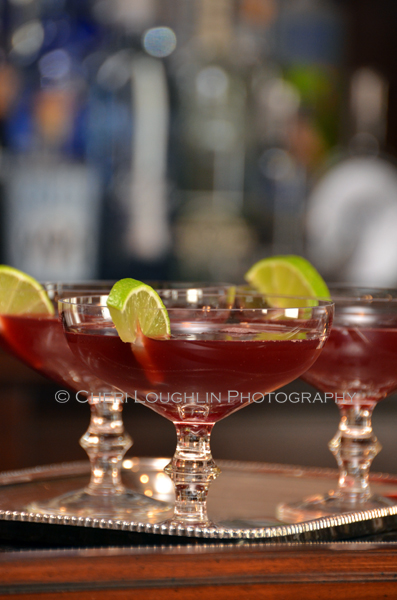 Currant Cosmopolitan
1-1/2 ounce Citrus Vodka
1/2 ounce Premium Orange Liqueur
1/2 ounce Cassis
3/4 ounce Fresh Squeezed Lime Juice
1 ounce Cranberry Juice
Lemon Peel Garnish
Combine liquids in cocktail shaker with ice. Shake to blend and chill. Strain into chilled cocktail glass. Garnish with fresh lemon peel. Katie is no longer at Sullivan's near downtown Omaha.
Even I have had my bout with doctoring the classic Cosmo. My curiosity was piqued by a fresh bottle of PAMA Pomegranate Liqueur. Bartenders have held this bottle up asking "What are we supposed to do with this?" The Cosmo seemed a likely candidate. The addition of the PAMA is rather simple, but the color works out rather nicely with a richer than pink color and something more than just cranberry and lime for flavor. The pomegranate also reminds me more of the season for which the pomegranate is known; winter.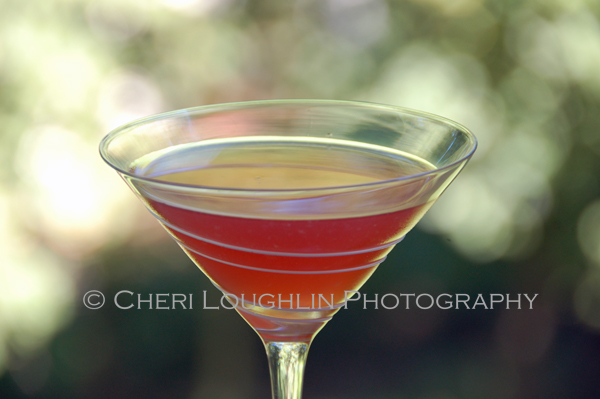 Pomegranate Cosmo – recipe adapted by Mixologist Cheri Loughlin
1-1/2 ounce Pomegranate Vodka
1 ounce PAMA Pomegranate Liqueur
1/2 ounce Premium Orange Liqueur
3/4 ounce Fresh Squeezed Lime Juice
1/2 ounce Cranberry Juice
Lime Peel Garnish
Combine liquids in cocktail shaker with ice. Shake to blend and chill. Strain into chilled cocktail glass. Garnish with fresh lime twist.
Nomad Lounge in Omaha's Old Market on the other hand has done something entirely different with their Cosmopolitan. Instead of adding another flavored liqueur to the shaker, they've topped off the cocktail with Moet Champagne for an equally exotic twist to the Cosmo. The Moet gives the Cosmo a nice bubbly, light effect. For this version of the Cosmo to work, the basic recipe has to be played with a bit beforehand or the cocktail becomes too weak and thin once the champagne is added. The liqueur must be increased to give the cocktail more body and in turn the lime must be increased to balance the sweet to sour ratio. This is my version of Nomad's champagne topped Cosmopolitan…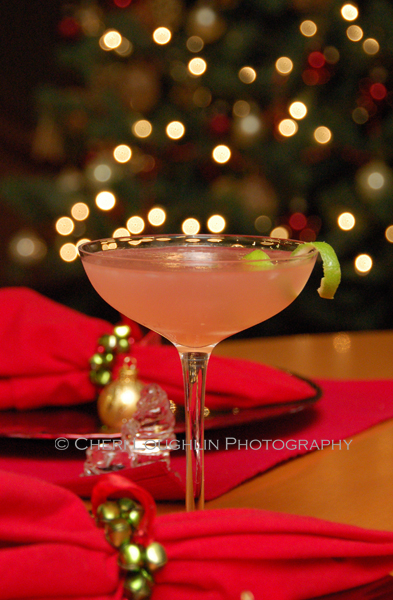 Celebration Cosmo
1-1/2 ounce Citrus Vodka
1 ounce Premium Orange Liqueur
3/4 ounce Fresh Squeezed Lime Juice
1 ounce Cranberry Juice
Lemon Peel Garnish
Champagne
Combine vodka, Cointreau, lime juice and cranberry juice in a cocktail shaker with ice. Shake to blend and chill.  Strain into chilled cocktail glass. Slowly pour champagne over top of cocktail; approximately 1 to 1-1/2 ounces. Garnish with a fresh lemon twist. Unfortunately Nomad Lounge in the Omaha Old Market area is no longer in business.
Different creations? Yes. Equally adventurous? Again, yes. For something a little fun and a lot interesting, make each of these Cosmopolitans and try a few sips for comparison. Next, top each one with champagne and compare them again. They all create something different with the addition of the champagne. Who knows, you may find a new favorite in the mix. 
Interesting to note; the Cosmopolitan is not a stand-alone drink. It falls within a family of drinks referred to as the Sours or more specifically, New Orleans Sours. All drinks within the New Orleans Sours family build upon the same formula: base spirit, lemon or lime juice (sour), and an orange flavored liqueur (triple-sec). A couple of highly recognizable drinks within this family are the Margarita, Sidecar, Kamikaze, and the Beachcomber.
All content ©2013 Cheri Loughlin, The Intoxicologist. All Rights Reserved. Chat with Cheri @Intoxicologist on Twitter and facebook.com/Intoxicologist or str8upcocktails@gmail.com