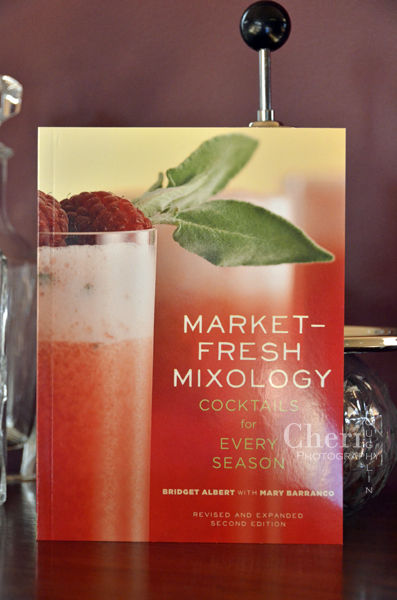 Market-Fresh Mixology: Cocktails for Every Season is written by award winning mixologist Bridget Albert with Mary Barranco. This book has been provided to me for an honest review and giveaway. Market-Fresh Mixology inspires readers to shop local farmers' markets, use their own home garden ingredients and personal pantry items to make fresh, creative cocktails.
The book emphasizes the use of the freshest, seasonal ingredients. Some of these ingredients might seem a little unusual for cocktail use; zucchini, radish, beet, caviar, etc. But the book also includes a wide variety of more common cocktail fruit choices such as berries, watermelon, apricot, pear, etc. The recipes and ingredient choices reflect a "green" living movement that carries over into the cocktail and bartending genre.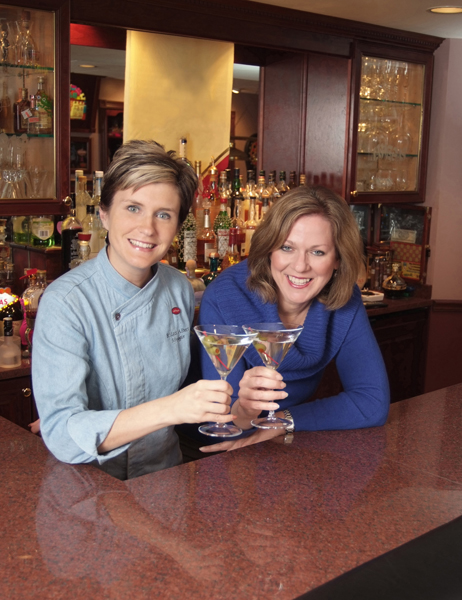 Bridget Albert points to the Spiced Beet Cocktail as her favorite from the book. This spring cocktail is described as a sophisticated, balanced blend of bold, spicy flavors.
Spiced Beet Cocktail
1 beet (peeled & sliced)
Juice of 3 pressed Limes
2 bar spoons Brown Sugar
Pinch of Ground Ginger
1-1/2 ounce Silver Tequila
1/2 ounce Mezcal
1 ounce Fresh Sour
Beet Leaf Garnish
Add sliced beat, lime juice, brown sugar and ground ginger to sauté pan. Cover and simmer on medium heat for approximately 10 minutes, until beets are tender. Stir occasionally. Remove beets and allow liquid to cool.
Place tequila, mezcal, 2 ounces cooled liquid, fresh sour and ice to cocktail shaker. Shake to blend and chill. Strain into cocktail glass. Garnish with beet leaf.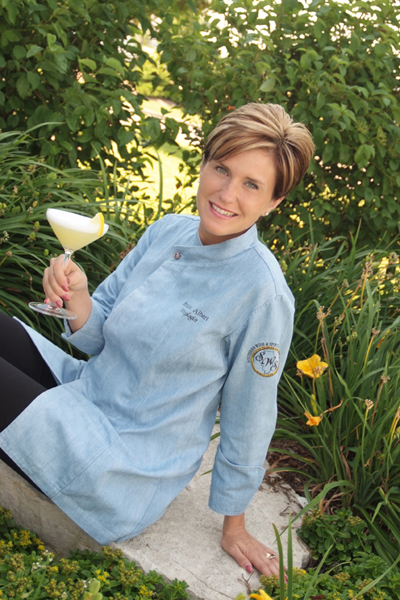 Market-Fresh Mixology does have wide appeal with its creative use of fresh ingredients. However, not every recipe can be followed exactly by every home bartender. For instance, Carrot Chic calls for freshly juiced carrot juice using an electric juicer. Not everyone will have access to an electric juicer. Though not ideal for freshest use possible, bottled carrot juice is available at grocery stores so it is still possible to make Carrot Chic if the recipe interests you. By the way, it looks delicious and someone on her Facebook fan page commented that the Carrot Chic cocktail "was the hit of the party…"
Bridget's book separates recipes by season and includes a list of the best fruits, vegetables and herbs for each season as inspiration. Allow her original drink recipes to inspire you to get more creative in the kitchen and behind the bar. Purchase Market-Fresh Mixology (Amazon Affiliate Link) or get in on the giveaway below!
Market-Fresh Mixology: Cocktails for Every Season Book Giveaway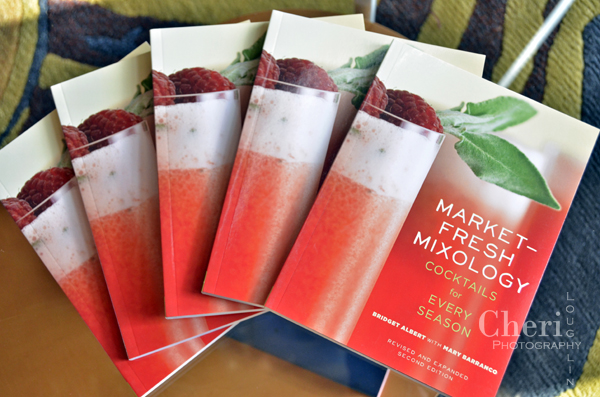 Bridget Albert and Agate Publishing have generously provided The Intoxicologist with five books to share with readers. Since the book is about inspired and inspiring fresh cocktails, the giveaway will be based upon the same thing. Bridget outlines a few unusual ingredients as "Season's Best" for spring:
artichoke, asparagus, beets, carrots, cucumbers, dandelion, greens, fiddlehead ferns, lettuce, morels, papaya, pea pods, radishes, rhubarb, spinach, strawberries, watercress, zucchini
Which of these spring season's best ingredients would you find most intriguing in a cocktail and why? Leave your comments at the bottom of this post. Winners will be chosen from comments by random drawing.
I am excited to see which ingredients inspire you most and super excited to send a Market-Fresh Mixology book to 5 lucky readers! Thanks for participating! ~ Cheri
Leave your email address in the comment form. Email address will not be published, but it is the only way I have to contact winners. Contest is open from March 25 to March 30, 2014 midnight CST. Contest is only open to U.S. residents over the age of 21. International friends may enter and win, but the prize will be sent to a person of your choice with U.S. shipping address. See additional Giveaway Policy information.
Bridget Albert currently designs cocktails and trains bartenders throughout the Chicago area, while teaching at the Academy of Spirits & Fine Service on behalf of Southern Wine & Spirits of Illinois. She has appeared on the Food Network's Iron Chef America among many other television programs. Follow Bridget's fan page on Facebook and bookmark her website.
Subscribe to the monthly Newsletter
All content ©2014 Cheri Loughlin, The Intoxicologist. All Rights Reserved. Chat with Cheri @Intoxicologist on Twitter and facebook.com/Intoxicologist or str8upcocktails@gmail.com
Review copy and copies for giveaway provided by representatives Agate Publishing, Inc.
Disclosure: Some of the links in the post above are "affiliate links." This means if you click on the link and purchase the item, I will receive an affiliate commission. Regardless, all thoughts and opinions shared in this post are my honest personal opinions. I am disclosing this in accordance with the Federal Trade Commission's 16 CFR, Part 255: "Guides Concerning the Use of Endorsements and Testimonials in Advertising."
Market-Fresh Mixology Book Giveaway