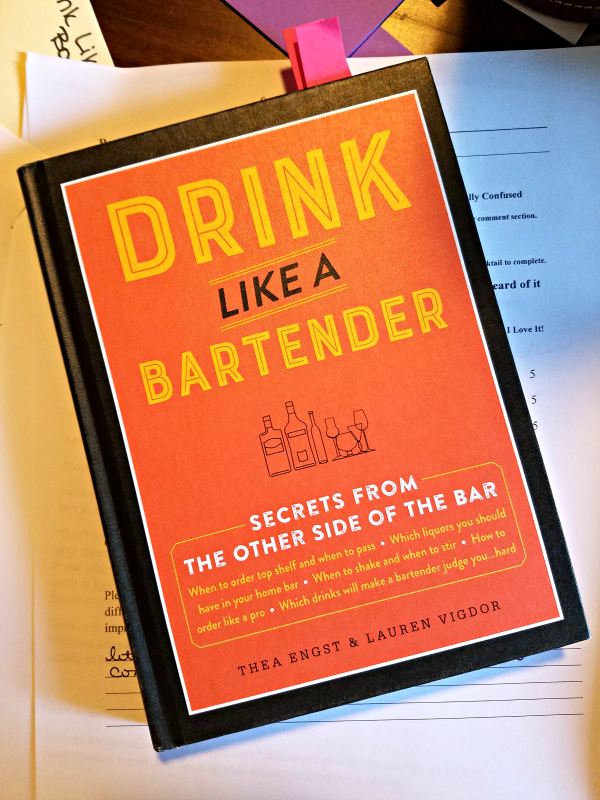 I love to explore the world of cocktails as much as I love to bake and cook. So I am always drawn to the cookbook and cocktail book section of the bookstore. And yes, I still prefer printed books rather than downloadable eBooks. When I was asked to review Drink Like a Bartender: Secrets from the Other Side of the Bar by Thea Engst and Lauren Vigdor, the answer was of course yes!
Drink Like a Bartender by Thea Engst and Lauren Vigdor provided by representatives. All photos and opinions are my own and that of my team unless stated otherwise.
The first thing I do when I pick up a recipe book (cocktail or food) is thumb through it. The primary things I look for are recipe photos, index, and a substantial number of varied recipes.
Some other components the team mentioned enjoying in a recipe book are easy to read print, history or origin of the recipe, helpful tips, sensible organization, clear directions, definition of obscure ingredients, alternative ingredients, readily available ingredients, etc.
What essentials do you look for in a recipe book?
Drink Like a Bartender Overview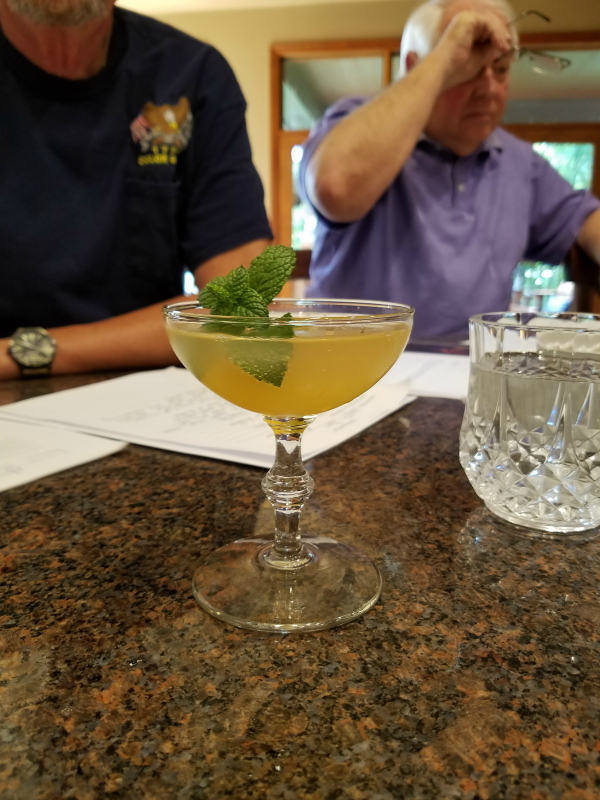 Authored by Thea Engst, General Manager of The Independent and River Bar, and Lauren Vidgor, Beverage Director for The Independent and River Bar.
Book premise:
"Discover insider secrets and insight from bartenders all over the country on how to properly order, serve, and drink alcohol without looking like a novice." – promotional information provided by representatives
Hardback | 224 pages | 5.5 x 0.9 x 7.5 inches
$15.99 hardback | $10.99 eBook
At the time of this writing the list price for hardback version is $9.34 on Amazon.com
Drink Like a Bartender Review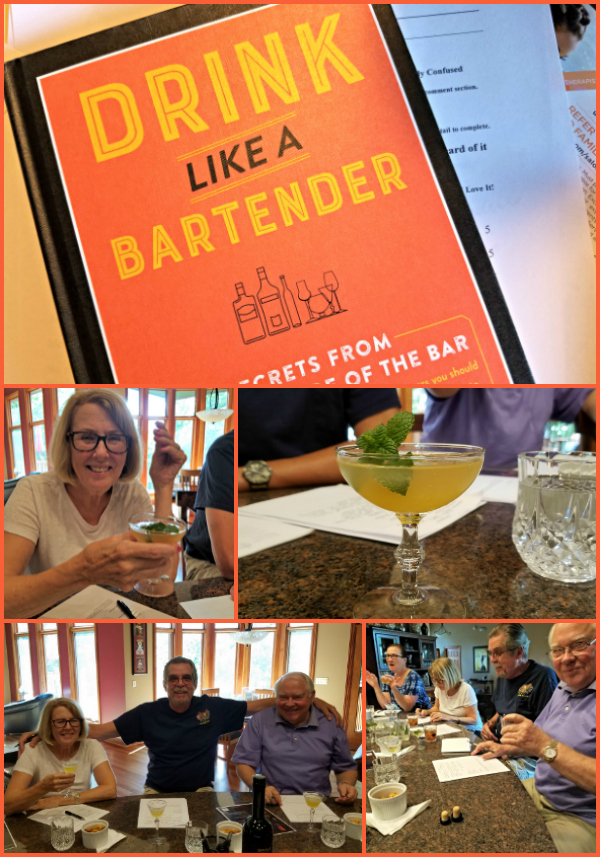 The team and I took a week to read through the book. We made notes about what we liked and did not like and chose a sampling of recipes to make from the book. One of the recipes we sampled from the book can be found in this recent spirit review. We met for a round table discussion the following week to discuss the book.
Since this book was written for the inexperienced, I made sure part of the review panel was made up of the same. Don't get me wrong, everyone on the review team is an experienced drinker. They know what neat, up and on the rocks means. They drink scotch, argue that the only Martini is the Gin Martini, and know when to shake and when to stir. Inexperienced just means they haven't worked behind a bar and haven't followed the cocktail and liquor industry with as much vigor as a seasoned craft bartender or spirits writer. One team member said he read the book front to back three times during the week. Impressive!
First Impressions:
The size of the book is nice for one-handed use. It is easy to carry to the bar with one hand while grabbing the necessary ingredients with the other. Orange color choice for the cover is eye catching. According to color psychology analysis, the color orange denotes happiness, energy, cheerfulness, spontaneity, and optimism.
Drink Like a Bartender contains a good overview of spirits, beer, wine and their subcategories. There are informational maps, fun infographics, and charts.
Pro Tips are spread throughout the book touching on common sense things like garnishing cocktails according to specific flavors found in the drink, what the purpose of dry shaking is and when to use that method, and what it means when a spirit has been distilled X amount of times.
Many Bar Banter pages are highly informative. They touch upon how some spirits are made, where they got their names, and all sorts of trivia surrounding the spirit and the people famous for said spirits.
Bar Lingo pages covers information relating to tools, garnish terms, how to order drinks neat, on the rocks, and up, and how to describe the flavors in your drink.
Bartender quotes are scattered throughout the book on pages titled Bartender Says. Bartenders comment on what irritates them and why (ordering dirty rocks on the side), what drink some bartenders consider the "I don't care what I'm drinking, I just want to get drunk" drink (Long Island Iced Tea), the complexity of trying to satisfy everyone's needs and never quite managing to do so (even with 32 draft lines and 40 varied bottles and cans of beer), gateway spirits (gin to whiskey) and bartender's go-to drinks.
Recipes are simply written with easy to follow instructions. However, there are some recipes that are vague to inexperienced home bartenders. Lillet Blanc is called for in the Vesper (James Bond Martini). Punt e Mes is called for in the 1919 recipe. Cocchi Americano is mentioned in the Corpse Reviver #2. Aperol is mentioned in the Naked and Famous and Division Bell recipes. When I asked the review team, most did not know any of these ingredients. Since there is no index to cross reference a brand name with a definition or another book mention, there is no way of knowing what it is unless, well, you just know. There's always the good old internet to look stuff up, but specific brands mentioned should include their specific category so there is no confusion.
Overall Impressions:
There are no photos, no index, and more pages dedicated to everything but recipes. If I had picked this book up in a bookstore, I would have immediately put it down without another look.
The book is incredibly disorganized. The very first Bar Lingo section in the book discusses how to order a drink; up, neat, on the rocks, etc. Yet chapter two is titled How to Order. The entire review team wondered why knowing how to order a drink was covered in the section describing spirits rather than the chapter seemingly dedicated to learning how to order said drinks.
Along those same lines, chapter one describes individual spirits, yet chapter two chimes in with Bar Lingo headings that cover specific terminology within each of those categories.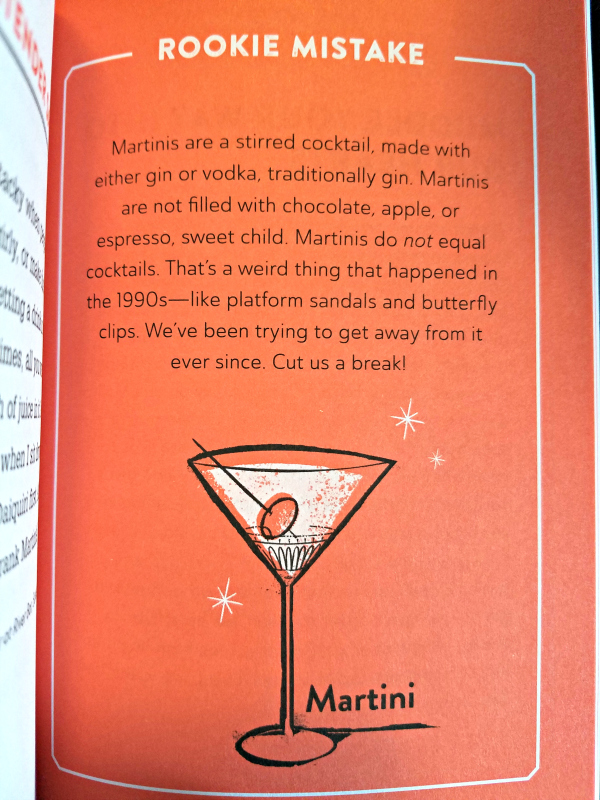 We finally get to the first cocktail recipe at page 75; the Martinez, gateway cocktail to the Martini. Ironically there is not a single recipe with measurements dedicated to the classic Martini with gin or a modern day Martini with gin or vodka in the entire book. We don't see another recipe in the book until page 137; Cosmo and Vodka Gimlet. The entire book contains 51 recipes. Most of those recipes are standard classics found in the majority of books on the market. Search the internet (or my site) for popular classic cocktails and all of the classics mentioned in this book will pop up in a list.
Search the Classic Cocktails category on The Intoxicologist site or look for 21classics everyone should try and 10 more classics that are always a good idea. 25 Essential Cocktails from SeriousEats.com | 50 best-selling classic cocktails from Drinks International | 30 Classic Cocktails from FoodRepublic.com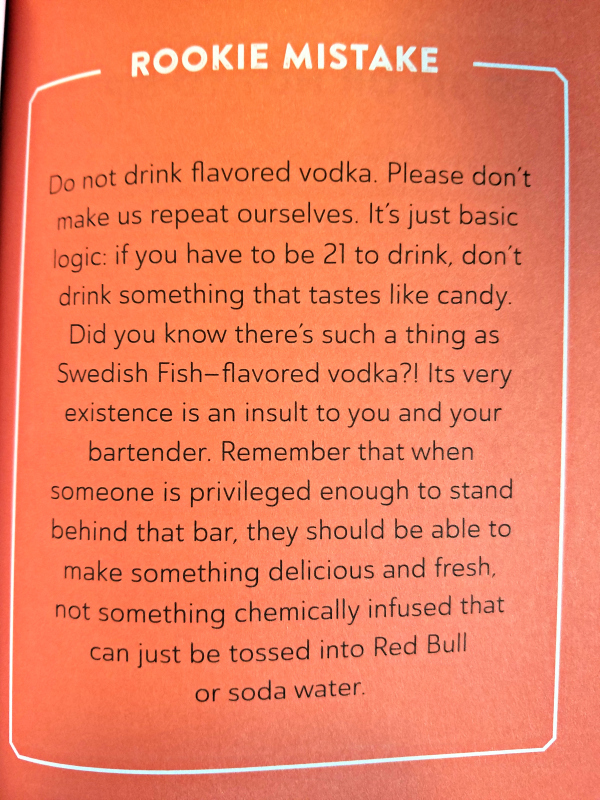 The book is littered with Bartender Says quotes, Bar Lingo scattered with no rhyme or reason, Pro Tip pages, Bar Banter, and Rookie Mistakes. We all found Rookie Mistakes the most offensive. As one review team member stated, he "felt like the authors talked down to the readers."
A few examples:
The authors don't understand pumpkin beer with cinnamon sugar rim. They call out those who like it with the statement; "alcohol is for grownups." Yet say serving Mexican beer with lime is so much different. Snopes addresses lime in beer in this article. Bottom line, no one knows the real reason lime is served in Mexican beer, but it likely did not originate in Mexico where lime with beer is considered touristy. Snopes best guess is that the whole thing was a marketing ploy.
Ordering Bulleit or Prichard's whiskey is grand until you decide you want Coke in it. Then, "It's like you're spitting in our face when you corrupt a beautiful whiskey with soda!" What? So what they're saying is order a whiskey you don't really care for and fill it with cola instead. No. Order what the heck you want to drink. You're paying for it. You might as well enjoy it.
Another; "Do not drink flavored vodka. If you have to be 21 to drink, don't drink something that tastes like candy." Yes, there are many flavored vodkas on the market that I would never drink, but obviously there are a lot of people out there who do like them because they keep flying off the shelf and are replaced with more. Every ingredient has its place. It isn't likely a high end craft cocktail bar will carry Iced Cake or Espresso vodka, but that doesn't mean anyone should be berated for drinking them. Personally I love espresso vodka on the rocks as a nightcap once in a while. I keep a variety of flavored vodkas stocked in my home bar for friends who love them. There is always a time for simple fun.
By the way, the authors encourage readers to make their own spirit infusions and flavored syrups. Making your own means the infusions and syrups are fresh rather than chemically flavored, but in the end it is still flavored vodka or whatever spirit you decided to infuse. Can we just stop being snooty about liquor. Isn't the purpose of imbibing to have fun?!
Airmail Cocktail Recipe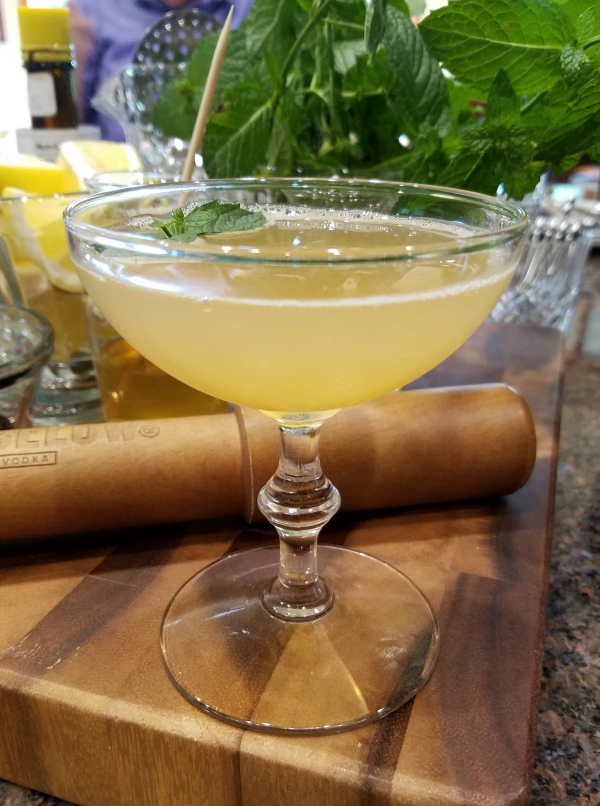 As mentioned, we did choose recipes from the book to sample. The Whiskey Smash was an instant hit with reviewers. We also sampled the Airmail Cocktail. Airmail is an aptly named cocktail to celebrate the birth of flight, otherwise known as Aviation Day. And the Aviation cocktail too, of course.
Airmail
1-1/2 ounce Aged Rum
3/4 ounce Lime Juice
3/4 ounce Honey Syrup (equal parts honey and hot water)
1 ounce Sparkling Wine
Dash Angostura Bitters
Mint Leaf
Place rum, lime juice and honey syrup into a cocktail shaker with ice. Shake to chill. Strain into a chilled coupe or cocktail glass. Top with sparkling wine and dash of bitters. Garnish with mint leaf.
Subscribe to the Newsletter
All content ©2017 Cheri Loughlin, The Intoxicologist. All Rights Reserved. Chat with Cheri @TheIntoxicologist on Instagram and facebook.com/Intoxicologist
Cheri Loughlin is the Omaha writer and photographer behind www.intoxicologist.net. Email Cheri with comments and questions at str8upcocktails at gmail.com.
Drink Like a Bartender Book Review